Today, we attempted Oktoberfest.
Before such an adventure, we needed a good breakfast. Shout-out to Mike's Dad for using his points to get us a hotel room in the heart of Munich and for being a Platinum Member which made the pricey and beautiful breakfast buffet free to us. This buffet was the bomb – like they legit served an entire honeycomb you could take a spoonful out of to sweeten your fruit bowl.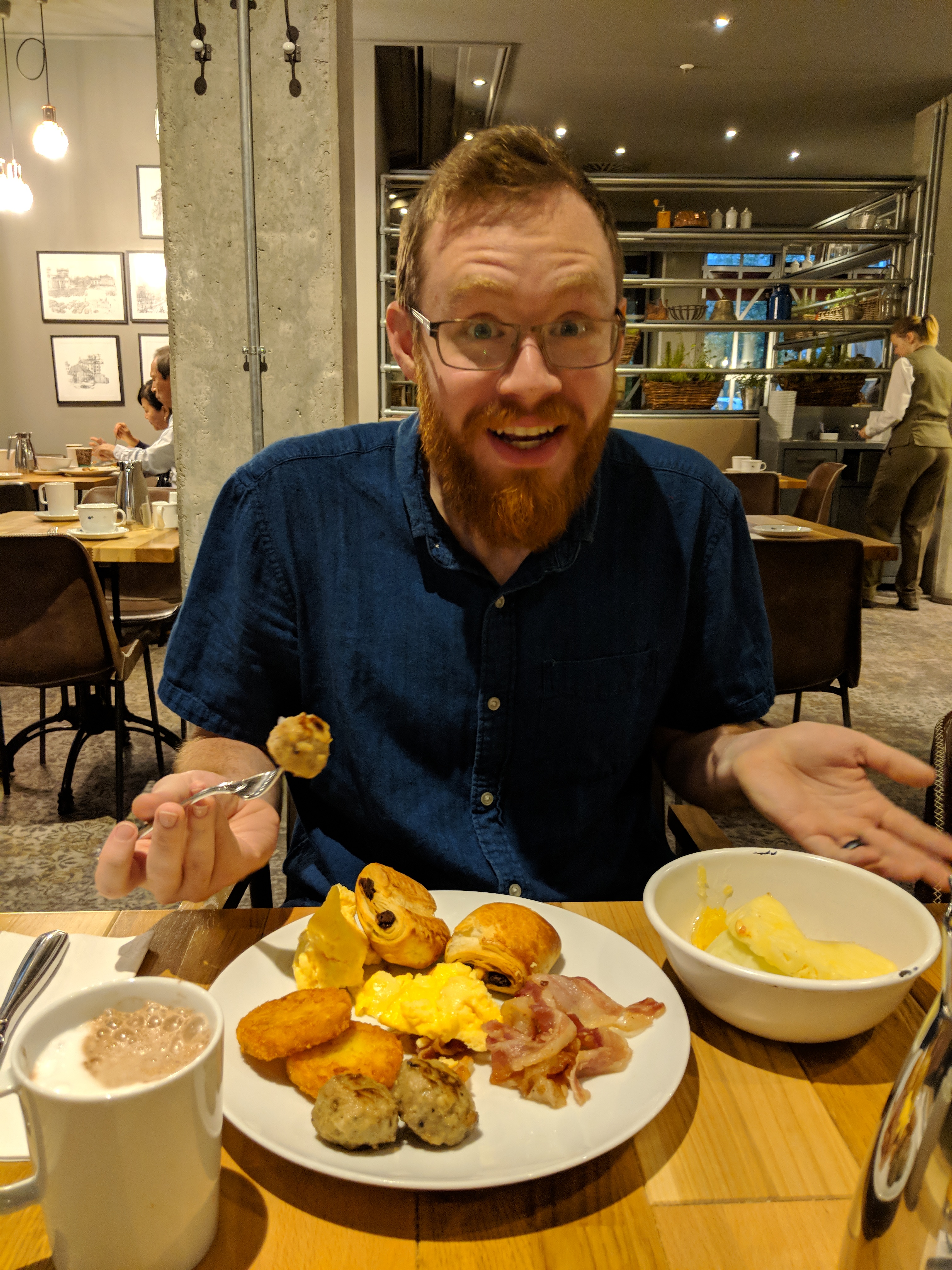 Oktoberfest was an adult's dream festival. Hordes of people spilled out from the metro and into the fairground. Our Lederhosen and Dirndl blended in perfectly. Classic carnival rides sat beside fun houses, stands that sold pretzels the size of your head, and stalls that sold feathered hats and flower crowns. A row over, a dozen beer tents spilled out into the streets. Tent is really the wrong word for these things…they are real beer hall structures that seem to hold thousands, have second floors, and a center stage for oompah bands. We had to confirm with some locals that these are really only up for a couple of weeks every year!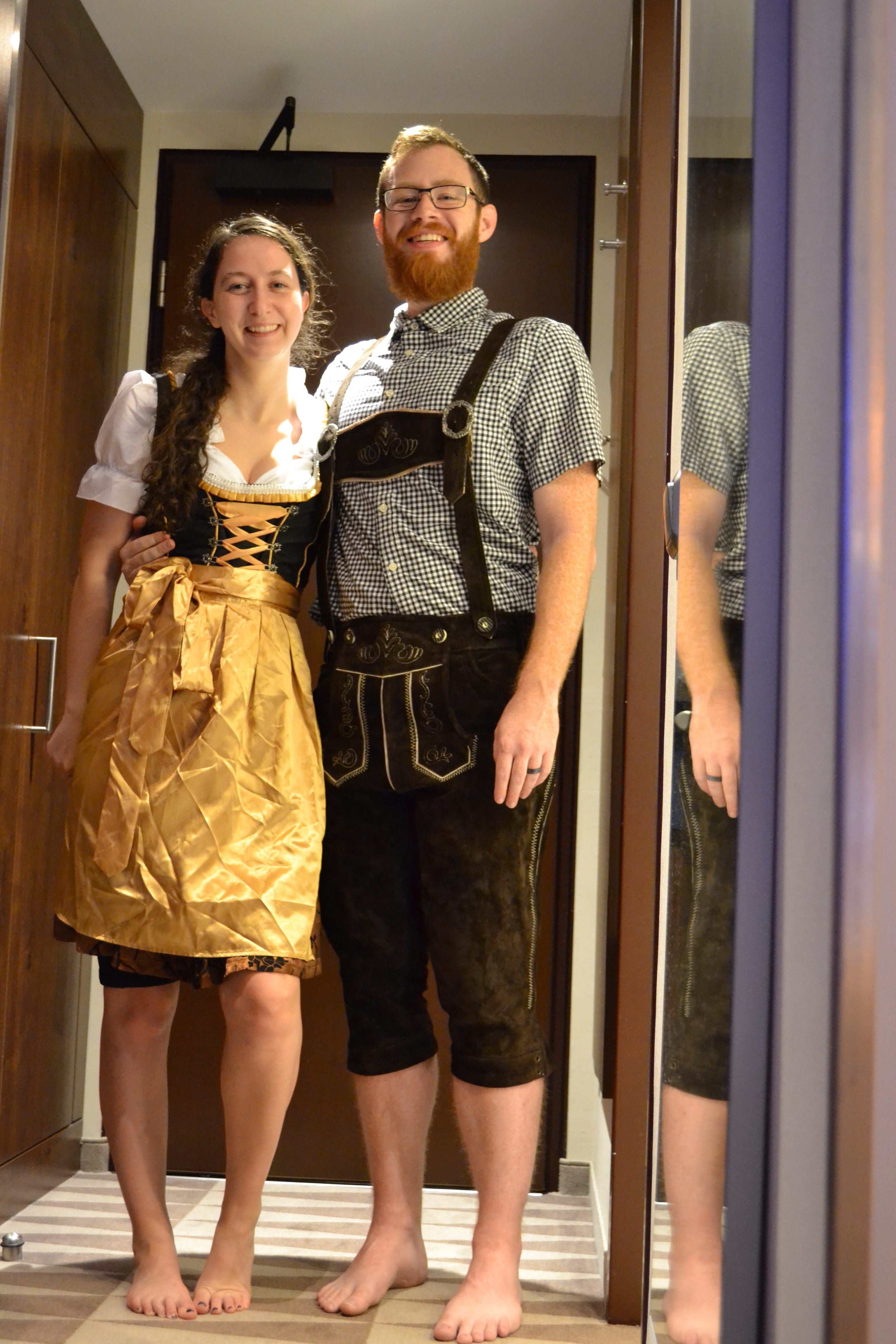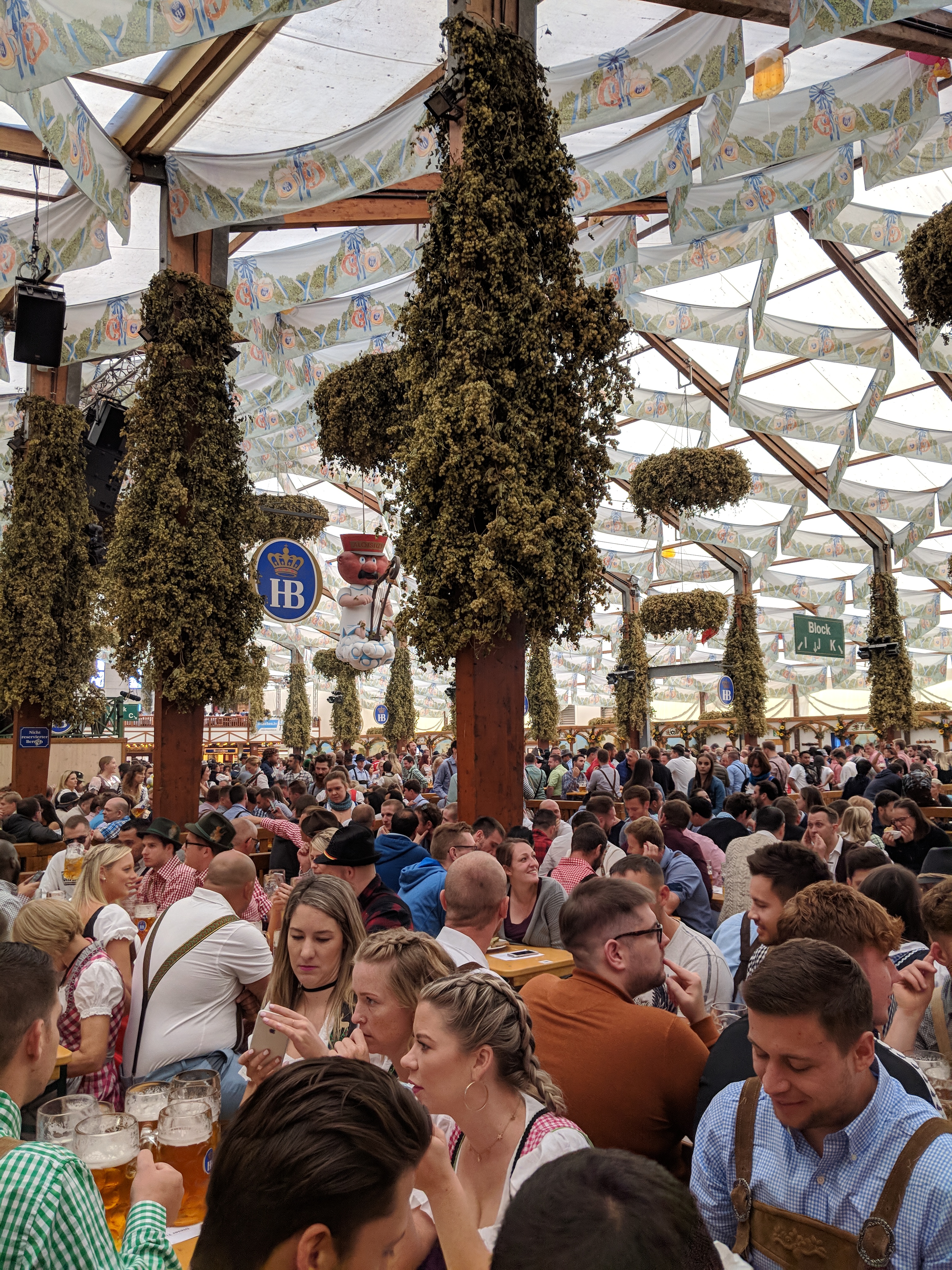 We toured a couple of tents and wound up in the Pschorr-Braurosl tent when a beer maid approached us and then sat us down at a random table. Soon, more random people were seated around us. We met a couple from Tulsa, OK who sat across from us. We talked engineering, traveling, and living on the east coast for awhile. Soon, two of their friends squeezed in at the table too. To our left, four local Munich people stopped by for a Sunday afternoon pint. They half ignored us Americans and half explained traditions, tried to make us drink more, and pulled us up onto the benches to dance.
The oompah band marched in to great uproar before becoming loud background noise. Every 10 minutes or so, they played "Ein Prosit" which caused everyone to pause their conversation, raise up their beer, shout along to the song, and then drink. It is very hard to drink slowly when you are toasting every 10 minutes. Here are the lyrics if you are drinking along in your living room:
Ein Prosit, ein Prosit
Der Gemütlichkeit
Ein Prosit, ein Prosit
Der Gemütlichkeit.
OANS! ZWOA! DREI! G'SUFFA!
Later, there were performers who stood in two rows at every other table and cracked whips in the air to the beat of the oompah bands. This caused the three to four engineers at the table to discuss that whips make noise by breaking the sound barrier and that they were the first man made object to do so. #drinkingnerds
Behind us, guys would take turns throwing food into the air and catching it with their mouth. Every time they succeeded, they ran around hyping up other tables to celebrate. At one point, a guy was so excited he caught a strawberry he threw his hat into the air and it landed perfectly in the folds of one of the many billowing yellow sheets that line the roof of the tent for decoration. Undaunted, they spent the next half hour throwing loaves of bread up to push the hat out. When they were finally successful, I think the whole tent cheered. This was at about 1pm on a Sunday. But what is time?
Don't believe people when they say they can handle 4 pints (I just read a girl's blog on her visit to Oktoberfest where she said she averaged 4 pints a day)…or do and be properly amazed…because 1 pint in, I was feeling it. Another half pint later, I knew we could no longer handle the peer pressure and needed to leave our new friends and table before we wound up with the many people passed out on benches or in the grass, the police casually prodding them with a boot to make sure they're alive. The beer was genuinely smooth and easy to drink, but unlike the craft brewery wave in America with flavor options and percentages and self-pour taps, Oktoberfest has at best four beer options and only one is served in each tent. You literally find your closest beer maid, say beer, and a pint comes your way.
After leaving the tent, we tipsily rode the carnival rides, got a pretzel larger than my head, expressed our undying love for each other, and got lost finding the metro.
When we made it back to the hotel it was immediately nap time. When we woke up at 7pm that same day, we got room service for dinner and watched several more hours of Jimmy Fallon. It was all actually a pretty well-timed whirlwind.