So, if you don't know: Mike and I are married! Hurricane Florence swept through, forced evacuations, and cancelled everything. Mid-evacuation of Nags Head we went to Manteo, got our marriage license, and were married by a clerk at the register of deeds who also happened to be an ordained minister – bless her. Both our parents were there and it was actually a beautifully sunny, breezy day. Later in the week, we held a hurricane party with most of Mike's family and a bunch of friends in Northern Virginia.
From the beginning, we talked about eloping. Our marriage would be a pact to each other, a vow between the two of us to take on the rest of the world together. But we also love our families. And that saying- where you only see your family at weddings and funerals? It kind of wrung true.  And my family has been to too many funerals lately, why deny us a happy party? So we wanted to host this wedding as a party for you all – sure we would get to be the center of attention, but we wanted this to be a big family reunion (with a good photographer).
So we made budgets and started saving and touring venues. It rained every weekend we toured wedding venues. The cheap, giant, backyard grill-out in a state park at the peak of October leafing that I could picture so vividly crumbled in the rain. Suddenly we needed something with a roof and that roof needed to hold a lot of people. Tents didn't seem sturdy enough and every hotel ballroom felt austere with drab curtains and musty carpet. Our guest count was an issue now that we required a roof: every homey, cute venue held a max of 100 people – we needed a room to fit almost 200. On a gray and rainy Sunday morning in July in the Outer Banks, we toured Jennette's Pier as an afterthought before leaving town. It was a state-owned facility – so it was cheap – and part of the North Carolina Aquarium system – so it was chasing after all the things I believed in: education, renewable energy, and oceanic stewardship. It also fit 175 people and had a wrap-around porch that made you feel like you were standing on top of the ocean, on the brink of an adventure.
When we called to book over a year in advance, every Saturday in October was gone, one weekend was left in August, one weekend in November, and two in September. August would be hot and in the middle of pricey peak season. My gut hated September – I knew it would be hurricane season, still hot and muggy, and there were so many emotional dates already in September: my mother's birthday, my cousin Paisley's car crash, Mike and I's first date, and talk like a pirate day – just to name a few. September seemed tempestuous and I wanted a lazy fall day, even if it was on the beach and not in the mountains. I tried to convince myself September 22nd would work – it was the equinox and I appreciated the symbolism of equality and the changing of the seasons. Of course even that date didn't work out and we were stuck with September 15th.
From there our costs ballooned. It was like every vendor was cackling at what we had thought would be a reasonable budget. How could renting a tablecloth be more expensive than buying one? But then what would we do with 20 tablecloths? But we slowly planned, disseminated information, signed contracts as best we could, and tried not to think too hard on how much we were spending for one silly – but supposedly perfect – day. I am not the kind of bride that ever dreamed up her ideal wedding and vendors always looked puzzled when we didn't get excited over traditional moments or minute details. The "first look" controversy was always the funniest one to me – is the groom allowed to see the bride before the wedding or only when she is walking down the aisle? – lol I wear that dress around the HOUSE. I wore it to the royal wedding as it played on the tv screen in my living room and I sipped tea and Mike rolled his eyes. I wore it cause I wanted to feel pretty one Saturday. I wore it as I read a biography of Leonardo Da Vinci on the porch. Why does no one get excited about the first look of the groom?! Will he have a beard or not? Liberty spikes or Jimmy Neutron?
Finding that dress was probably the highlight of this whole process though. Normally, people bring their mom and a friend shopping. My brides-people were scattered across the country and my mom died when I was 13. How do I pick amongst all the women in my life for this apparently coveted role? So I didn't – all 14 came to David's Bridal with me. My entire mother's side of the family held a birthday party in Virginia Beach for my grandmother's 90th birthday. On Sunday, my grandmother and every aunt and female cousin invaded the stacks of dresses and tried to find me "the one." For most, so many people and opinions in one room may sound like the worst experience ever – but I hate shopping and my family is wonderful and gets me. Earlier, amongst David's Bridals thousands of online dresses, I had found exactly two that were worthy of a bookmark. Somehow, completely on their own, my family picked out one of those two and within a couple of painless hours, I had a dress. Even as the fittings wore on, my aunt Lauren and cousins would show up to alterations for support and suggestions and twirling.
My wedding planning style was: be organized enough to get all the details together, but laid back enough to give zero shits about them. I stressed over pinterest-perfect DIY ideas so that they could be pretty enough to ignore. Once we bought event cancellation insurance, I would openly wish for a hurricane to take me out of my misery and give me my money back. It was mostly a funny joke – but now feels like I was "asking for" a devastating hurricane to force evacuations and flood homes. The funny part is eloping would have meant no work for us; a hurricane meant we did a ton of work only to elope and not enjoy the fruits of our labor. 
So, here I am with all the cute details in boxes in our garage. To keep control of costs, Mike and I were the planners, decorators, DIY-ers, and event coordinators for everything – except the day-of where my bridesmaid's sister Becky was going to step in and beautifully boss everyone around. Mike and I and our families put time and effort and thought into a lot of things only for them to never see the light of day. So here, via pictures, they will see the light of day dammit. And you all can read about what a good time you could have had and how much we actually had our shit together.
Tables and centerpieces
From the beginning I wanted dark purple and gray. We rented gray tablecloths and dark purple cloth napkins for the tables. Centerpieces consisted of wood rounds that Mike's brother-in-law and sister cut and then promptly killed a chainsaw over. When they got to us, Mike took an entire Saturday to research the right oil they needed to be soaked in so the wood wouldn't crack as it dried (something called Pentacryl, which could only be found at Woodcraft, and which is still in our garage). I then took another entire Saturday, right as the hurricane started looking dangerous but we needed to pack and finish anyway, to sand off all the edges that had fallen off and the rough parts of the top and bottom. We bought the entire stock of tiny jars at a labor day sale at Michael's the weekend before the wedding. We bought giant whelk shells off the side of the road during a visit to the eastern shore, after which I carefully soaked them in bleach and laid them out to dry in the sun in an attempt to get them not to smell so badly. We bought little lighthouse lanterns and then debated for days on the dangers of tea lights. I bought gears to act as table confetti – in a nod to Mike's fraternity, our occupation as engineers, and because of the constant search for nerd-chic decor.
Name Cards
My aunt Colleen came up with the idea to use lighthouses as our table numbers so we found 18 lighthouse names and pictures all along the east coast, printed them, and carefully cut A-frame paper stands for each table. On a table as you walked into the reception area would be 110 compasses attached by string to a little tag that held a couple's names, table number, and star chart. A sign would have read "navigate to your seat" beside two maps of every lighthouse on the east coast.
Other Hallway stuff
I digitized Mike's parents entire wedding album and most of my own parent's wedding before printing my two favorite candid shots. These would have been adorned with my mother's veil and Mike's mother's veil. Nearby, we would have had skeleton key beer openers as wedding favors – I never figured out the stupid sign for these – the key to love? Barf.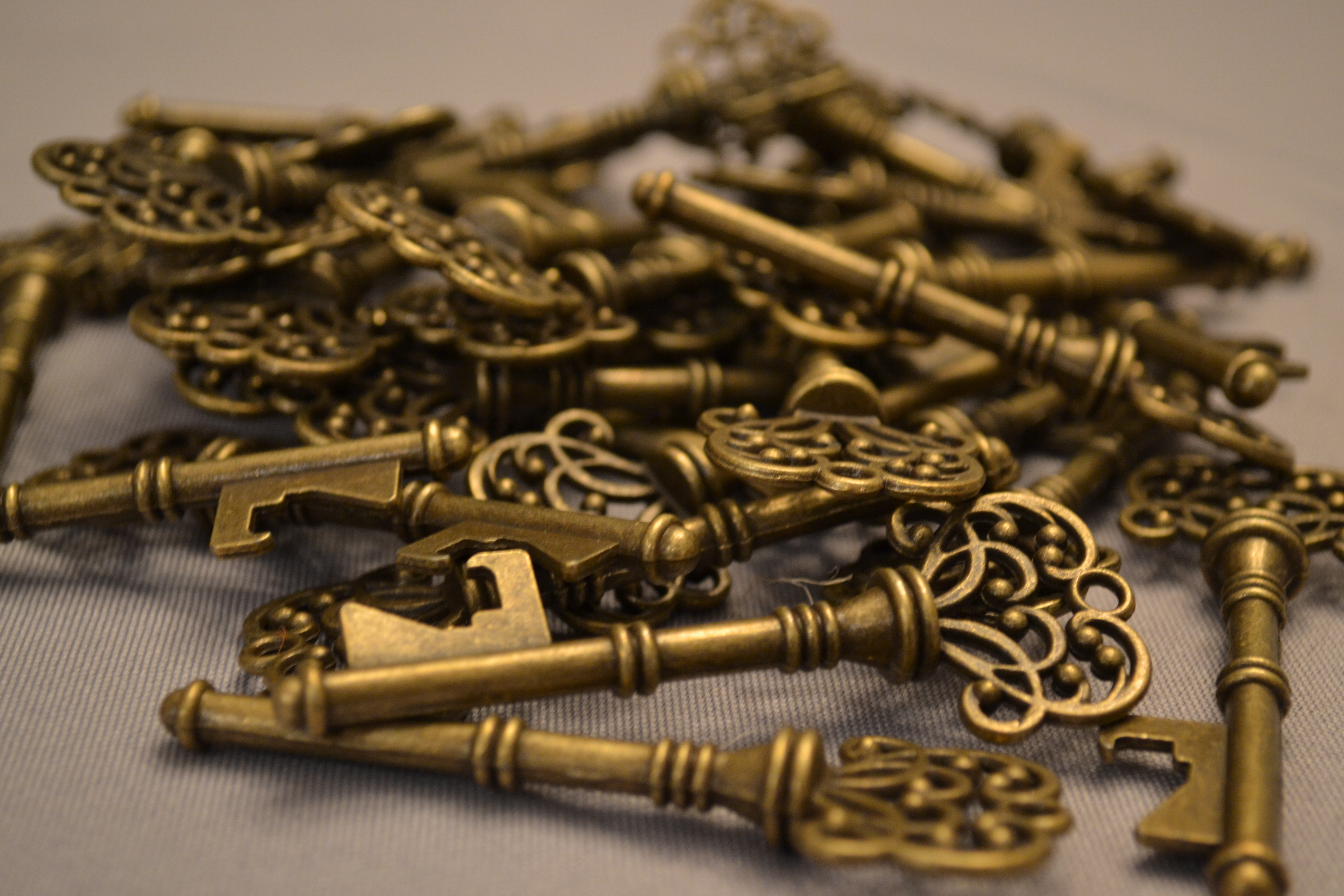 We would have also displayed our dirt. Wherever we have traveled or wherever an important moment has happened, Mike and I have pinched dirt or stones or shells or sand into old chemistry test tubes I stole from Virginia Tech. We have a picture from our engagement shoot/hike that says "Of all the paths you take in life, make sure a few of them are dirt." – John Muir.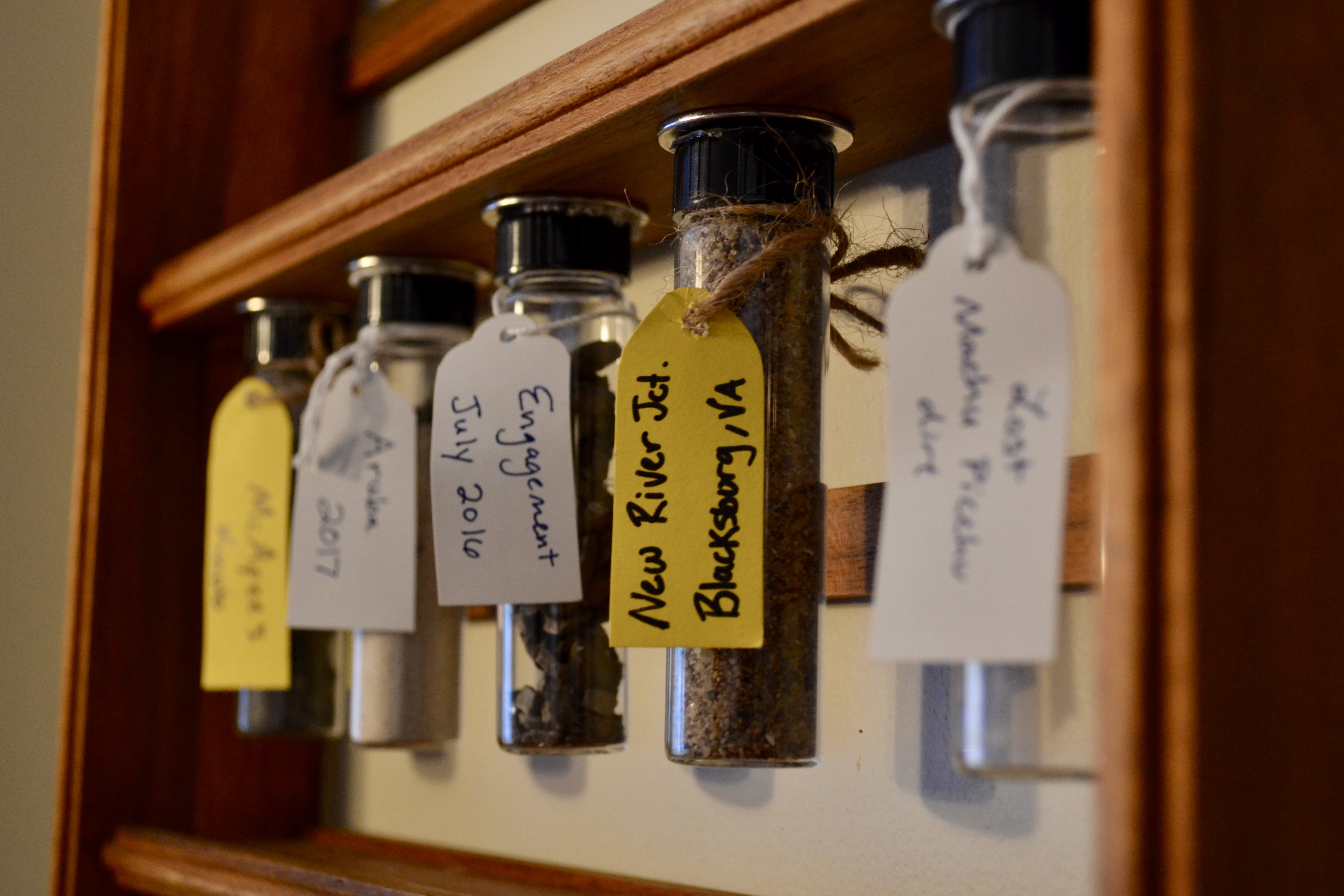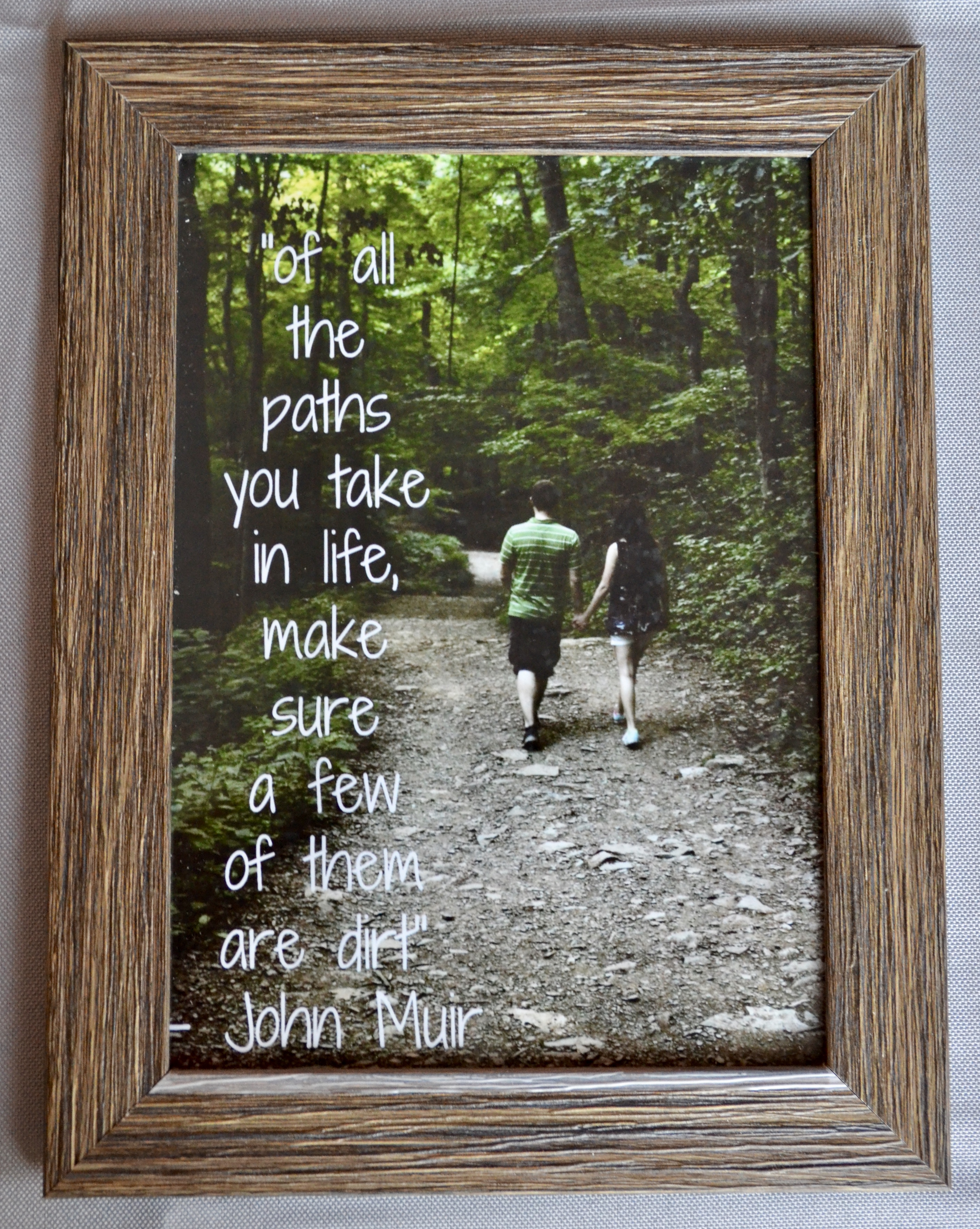 We got the pier's "AV package" which funnily enough did not include any sound system but did include a TV that would have displayed a slideshow of family and friends and a piano where my uber talented cousin Henry would have played the Lord of the Rings soundtrack.
Memorial Mantel
I struggled for a very long time on how to incorporate my mom into this day. I genuinely hate what people normally do for deceased loved ones at weddings: a sign that reads "we know you would be here if heaven weren't so far away" …just, ew. Or black and white photos on a table shoved into a corner and quickly forgotten. In the end, my Aunt Colleen came through again with the perfect suggestion: a wall of quotes. A burst of personality and life lessons to be displayed on the pier's fireplace mantel, in the center of it all. I threw a little Disney in there because Lilo and Stitch are the best. And lastly, we added a pair of Cranes. These were also bought from the side of the road on the eastern shore of Virginia – when we told the artist we would use them for our wedding, they quickly made us a "pair" of cranes – male and female – instead of just the one we had been eyeing. We watched him cut pvc tubing and use a hair dryer to melt and shape the crane's legs, wings, and curved neck. In Japanese culture, the crane can symbolize hope and something to wish on. So on either edge, these majestic shoreline birds, served as the ambassadors for Mike and I to surround the loved ones we wished were there.
Food and Drink
Mike and I went through months of negotiation only to be dropped by our first caterer. We found a second caterer and then re-did all the back and forth of what we wanted out of the menu. Mostly, a Mac and Cheese bar for me. But also a buffet that felt inclusive for all of our vegetarian and gluten-free friends (although Vegans…I'm sorry…that was so hard…I really just need cheese in my life). We even found two different gluten-free cakes for yall. And of course, shrimp for my Dad, a traditional anniversary meal between him and my mom.
Mike's parents bought boxes and boxes of wine for beach week and for the wedding – mostly because Mike and I don't like wine, and when we do like wine, it's the sweet, grape juice variety – so we decided to defer to more expert wine drinkers. My aunt Ruth and bridesmaid Tracee's mom were both scoping out the Navy Exchange in Norfolk for champagne, beer, and cider.
Mike and I worked very hard on finding the right champagne and juice combinations for the mimosa bar. And with so much extra champagne, we will continue to work very hard on this issue. Also, instead of fancy people carafes we would have had chemistry beakers holding your juice selections – there's that nerdy chic aesthetic again 😉
Wedding Ceremony
I became absolutely obsessed with circle arches. My one moment of wedding hysteria. Circles are just the best though – you know? The circle of life, circular rings, pi(e). But apparently they were the trend this year and all sold out. In a last ditch effort, I asked my Dad how hard it would be to make one, three weeks before the wedding. The best thing about Dads is that without hesitation or question he agreed and just asked what diameter I wanted. With a nail, free pallet wood, and pencil, he made a makeshift protractor in our garage. I did some geometry and made a couple of drawings at work. And over a weekend we traced, cut, sanded, and nailed the arch together. Mike made the feet and after a disastrous bout with wood stain, we painted the whole thing white – outdoor paint, 3-4 coats. This baby better stand the test of time in our backyard. Now to pick a climbing vine – roses or honeysuckle? Or both?!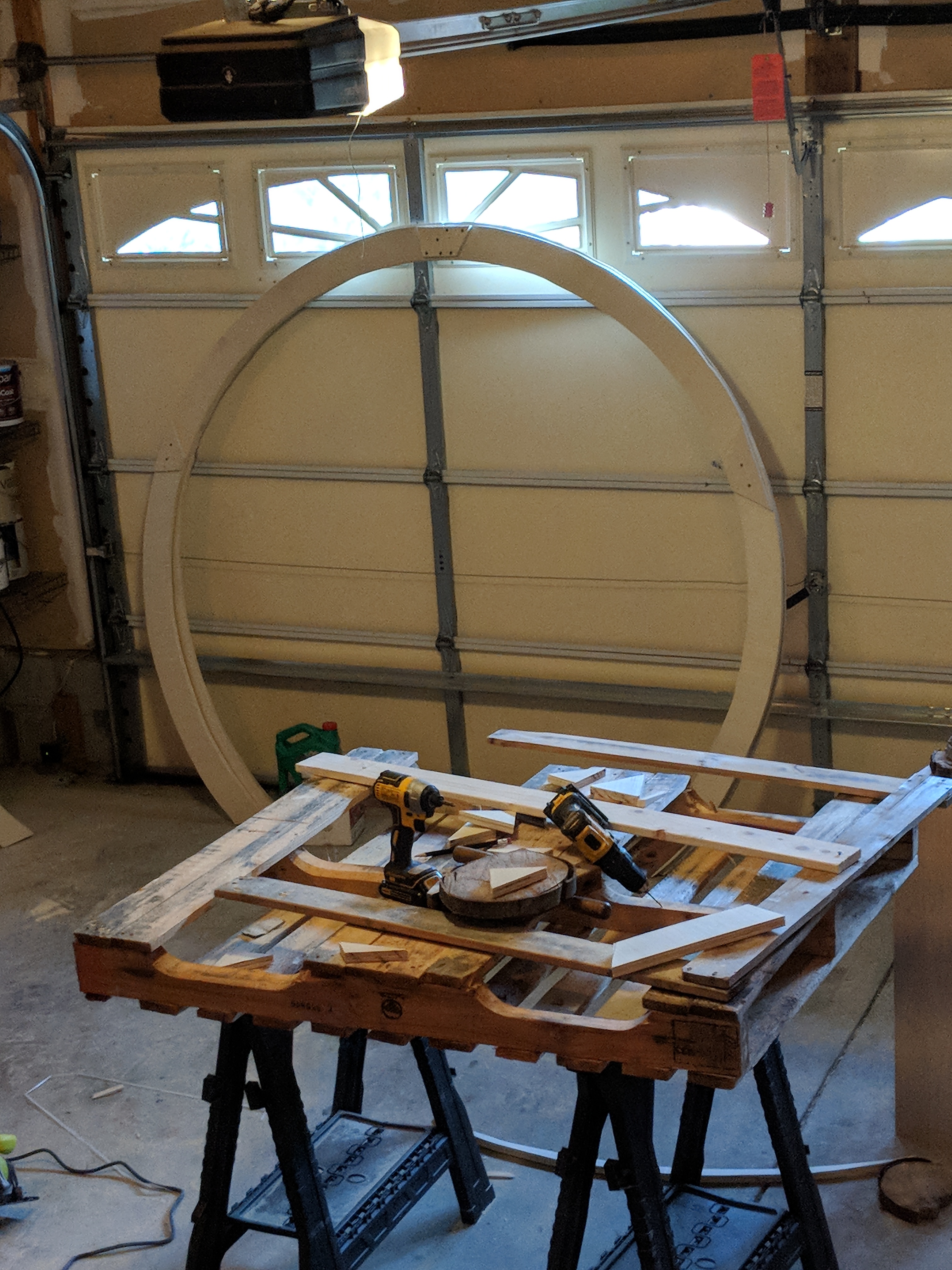 The other half of my wedding hysteria was that I really, really wanted an oak barrel. I'm still not even sure what the barrel's purpose was going to be? Wedding alter? Adventure dirt holder? Platform for the wedding speakers? One problem is that I somehow made enemies with the barrel supplier of Raleigh – I had been on the hunt for a compost barrel, rain barrel, and oak barrel all at the same time – and somehow she supplies all three, does not enjoy haggling, and no longer returns facebook messages. Anyways – I found another one near Kings Dominion instead for $100 and made Mike bring a U-haul of otherwise expensive but free-to-us furniture to the middle of nowhere for this splurge. As we were loading up cars to go to the Outer Banks, we discovered that our barrel was leaking. Instead of packing it up as it dripped wine-colored water, we put the barrel under a sprinkler, rotating every half-hour, for half a day, hoping the wood would soak up enough water, expand, and stop leaking. Our foolproof plan seemed to work.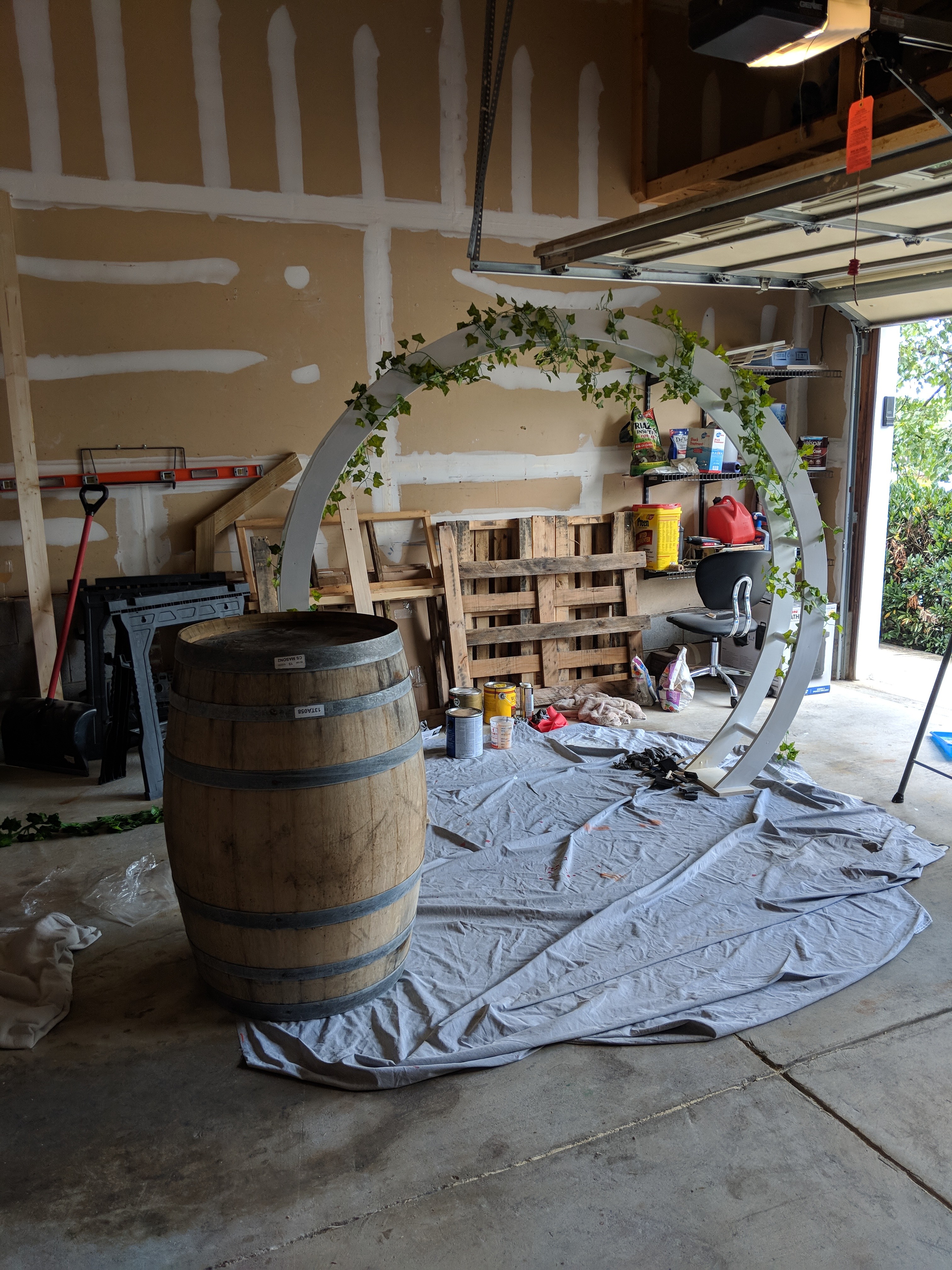 Finally, we would have lined the aisle with starfish hanging off of the chairs on the pier. Our two Ushers, Addy Stover and Chloe Cookson would have passed out water bottles and drinks from my Dad's canoe-turned-ice bucket and a pair of our custom sunglasses – green & gold for William  & Mary, maroon and orange for Virginia Tech, and purple and gray for our wedding colors – a rainbow to choose from.
Ceremony Readings
Reading 1: Carl Sagan inspired
"The size and age of the Cosmos are beyond ordinary human understanding. Lost somewhere between immensity and eternity is our tiny planetary home. And yet our species is young and curious and brave and shows much promise. In the last few millennia we have made the most astonishing and unexpected discoveries. They remind us that humans have evolved to wonder, that understanding is a joy, that knowledge is prerequisite to survival. Our little planet floats like a mote of dust in the morning sky. All that you see, all that we can see, exploded out of a star billions of years ago, and the particles slowly arranged themselves into living things, including all of us. We are made of star stuff. We are the mechanism by which the universe can comprehend itself. The world is so exquisite with so much love and moral depth. We should remain grateful every day for the brief but magnificent opportunity that life provides. The sum of all our evolution, our thinking and our accomplishments is love. A marriage makes two fractional lives a whole. It gives to two questioning natures a renewed reason for living. It brings a new gladness to the sunshine, a new fragrance to the flowers, a new beauty to the earth, and a new mystery to life."
Reading 2
I fear that I will always be
A lonely number like root three
The three is all that's good and right,
Why must my three keep out of sight
Beneath the vicious square root sign,
I wish instead I were a nine
For nine could thwart this evil trick,
with just some quick arithmetic
I know I'll never see the sun, as 1.7321
Such is my reality, a sad irrationality
When hark! What is this I see,
Another square root of a three
Has quietly come waltzing by,
Together now we multiply
To form a number we prefer,
Rejoicing as an integer
We break free from our mortal bonds
With the wave of magic wands
Our square root signs become unglued
Your love for me has been renewed
"The Square Root of Three,"a poem by David Feinberg, film "Harold & Kumar Escape From Guantanamo Bay"
The vows

Mike never wrote vows so in all the hurricane hysteria it seemed weird for only me to deliver them. So, internet, here's how much I love this kid. Picture a beautiful day on a pier in the middle of the ocean, a circle arch and barrel are behind us, 175 of our closest friends surround us, the sun is out, personalized sunglasses are on, and the wind is perfectly swooshing my hair:
I'm sorry my love of cookout destroyed you having abs. I hope you can forgive me.

Because I love you just the way you are.

I love our quiet moments where we do nothing together. The uncontrollable giggles as we brush our teeth, our quiet walks around the neighborhood, and the long hot tub discussions looking up at the stars in our backyard.

I love our loud adventures. When I was scared of turning 25, you took me to Harry Potter world so I could turn 13 instead. I used to plan trips that packed in a thousand museums and cities in a week – but now you remind me its ok to schedule naps. When I underplan trips (like when we were lost in the grand canyon without water) you keep a level head and help make sure everything turns out ok.

I love how much you care. You are a rollercoaster playground for my cousins, serve as Lauren's handyman, cook breakfast for everyone who visits us, and share matching jackets with my Dad with an ease and kindness that blows me away.

When I'm sad, you know exactly what Disney movie to play; when I'm lazy and complaining you remind me that "I'm a strong, independent woman"; when I'm happy, you share in the joy with beer, awesome dance moves, and ceremonial dirt. I feel so safe and at home in your arms.  

I am so excited to have you as my partner in life – I hope we can work through anything – and I can't wait for all of the adventures to come.

Lava and Roar
For those not in the know: "Roar" means "I love you" in dinosaur, obviously, and is from a card Rachael sent Mike while she was in England for a summer. Lava is from the Disney short before Inside Out where the two volcanoes fall in love and sing "I Lava you." We are aware dinosaurs and lava have a tumultuous history.
In conclusion

It's been cathartic to be able to spill out how much a year and half of wedding planning can deliver. But in the end, most of this is just stuff. We can repurpose it or give it away. Even our vows are unimportant – I can tell Mike I love him every day as he plays VR and I read a book in the hammock. I am incredibly grateful none of our friends and family were harmed by the hurricane and I hope that those who were impacted find shelter, kindness, and strength. A giant, expensive party being canceled in not a true disaster. The real thing I am mourning is the stuff I can't take pictures of – all of our friends and family forced to gather in one time and place to just enjoy each other's company. I imagine we will have half a dozen wedding reenactments over the year to make up for that and I hope I have the presence of mind to capture pictures of them all. I'm happy to wear this dress as many times as necessary 🙂