Train: Venice to Florence
Mike and I got to the train station two hours early like we were catching an international flight. But we are in Italy now where trains seem to be able to do what they want and we waited and waited. The growing crowd of nervous train departure screen watchers grew and we all cheered when the track number was finally posted – 20 minutes late but supposedly still scheduled to leave on time.
Train: Florence to La Spezia
Mike and I had a tight connection we were convinced we had missed. But lo and behold the train was still listed under departures and we sprinted to the other side of the train station (isn't your connection always on the opposite side of where you are?!). We found seats near a family from Long Island who were kind (although their luggage took up four entire seats) and caught our breath…and then waited and waited. Something wasn't right.
Train: Florence to Lucca to Pisa to La Spezia to Vernazza
Eventually, we investigate and are told that there's an accident on the tracks and our train won't make it all the way to La Spezia. The lady dishing out this information started suggesting to the crowd other routes to take – but mostly it was a maze of connections through Italian cities I had never heard of. We walked away confident but then stared at the departures board in lost confusion.
I'm proud of us though. We didn't freak out. We didn't yell at each other. We didn't bemoan that the entire trip was ruined. We didn't rush decisions or re-purchase tickets. The long island people we had been sitting next to took forever to get all their luggage off the train and then immediately called their travel insurance to complain before even figuring out a plan. We met another group later that looked exhausted and pissed off after re-purchasing three different train tickets and feeling routed all over the place.
Instead, when we couldn't figure out an alternate route on the departure screen or Mike's phone or the timetable map, Mike went up to a security guard to see if the train station had a better information booth. Instead the guy told us to hop on the train leaving now right in front of him and connect via a city we had actually heard of: Pisa. So we just went with it and hopped on. Onboard I found a Tuscany train map that helped reassure us we were headed in the right direction and during train stops and connections we found drinks to stay hydrated and watched each other's stuff during bathroom breaks. We handled the small mishap by treating it as a small mishap; we later learned the accident on the tracks was that someone had been killed by a train earlier and we were grateful to have not been on that train or the family of whoever was killed – someone always has it worse.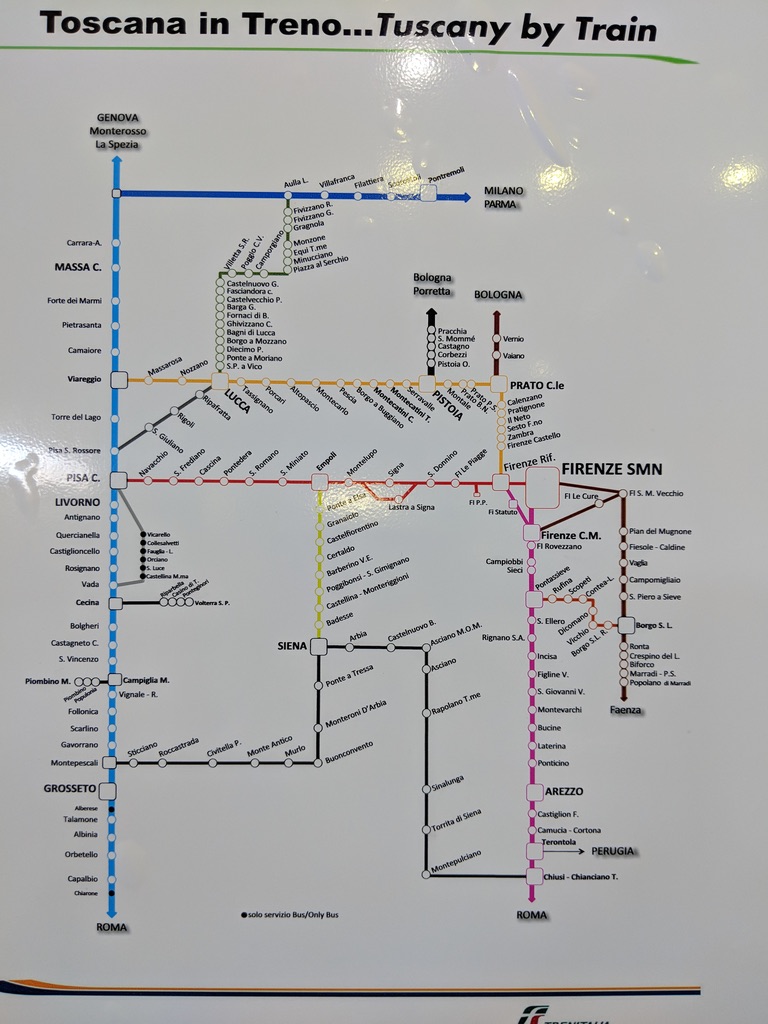 The one moment I felt bad about our late arrival was that we had told our AirBnb host that we would arrive at 3pm and we didn't get there until after 5pm. Our host's Italian-only speaking parents had been sitting there waiting for several hours to welcome us and give us the keys; the nice honeymoon prosecco they had put on ice for us was now sitting in a bucket of water. I said the word train over and over again in an apologetic tone but who knows how that translated.
We dropped our stuff off, meandered back down the stairs to the main street of the village and toward the harbor as the sun set. We grabbed a table right on the water and I enjoyed Italian pesto gnocchi and a local wine. Between the views from our AirBnb, the promise of hiking, and our sunset dinner, Cinque Terre grabbed us in the most wonderful way possible from the very beginning.