When the hurricane canceled the wedding and we got married near the register of deeds in Manteo instead, I wore black shorts, shiny sandals, and a white off the shoulder top. It was not the original plan but it was beautiful and simple and perfect. But what to do with this wedding dress? The obvious answer: stuff it into a bag and take it to Europe.
I thought I was so spontaneous and original getting back-up wedding photos in Venice. I booked a photographer on AirBnb experiences and he even offered to photograph us at 7am before all the crowds arrived rather than the noonish time we booked. While the crowds weren't there, at least three other groups with brides in weddings dresses were also having photoshoots! On a Monday. In October?! I guess I'm not that original 😉
I wore some ordinary sandals and didn't pack makeup or jewelry – it was just me, the dress, and a lot of (mostly brushed) hair – for once, my outfit was way less complicated than Mike's. At 7am the sun was just rising off the sea, sometimes creating that "glow" photographers love and sometimes piercing through the horizon and creating eye-squinting contrast between sunlight and shadow. I've never been in such a posed photoshoot before so I'm curious how it will all turn out – if forced smiles and straight backs amplify or dampen our awkwardness.
By 9am we were done and marching back through the alleyways of Venice to change back into normal clothes. Then a shot of espresso and back to San Marco.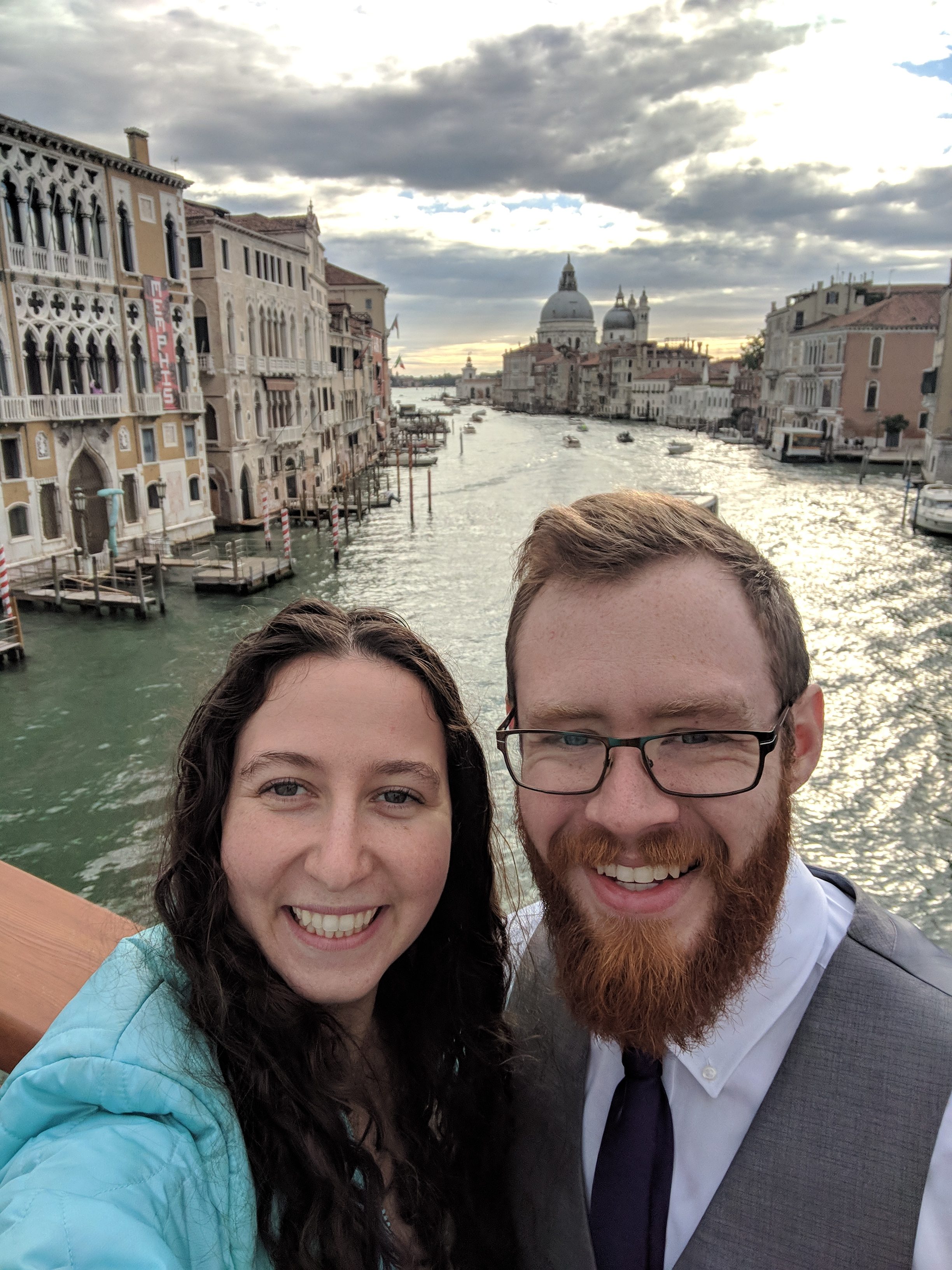 The Basilica was overwhelming to both look at and navigate. Instead of buying one ticket, you bought little tickets to every corner of the church: want to see the altar? Ticket; want to see this room full of gold chalices? Ticket. Added up to one ticket, it probably would have been one reasonably priced museum but instead you kept making value judgements on whether a view of the altar was worth three euro. I don't remember that in my research – maybe we did it wrong…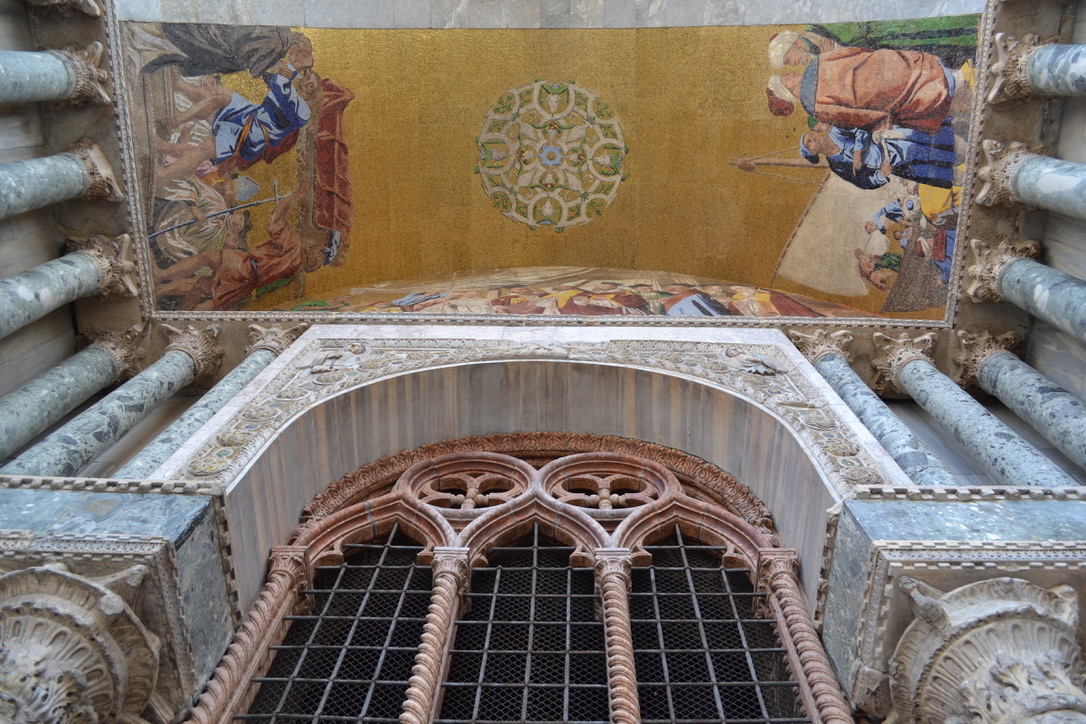 We tried to pick out all the fun murals in the gilded church and make up stories about them. Sure, Jesus and the saints were shiny and stern faced and everywhere but the Arab merchants that made Venice so profitable were there too. So were men and women getting eaten by a giant whale-like creature and soldiers battling two different multi-headed dragons. Fun stuff.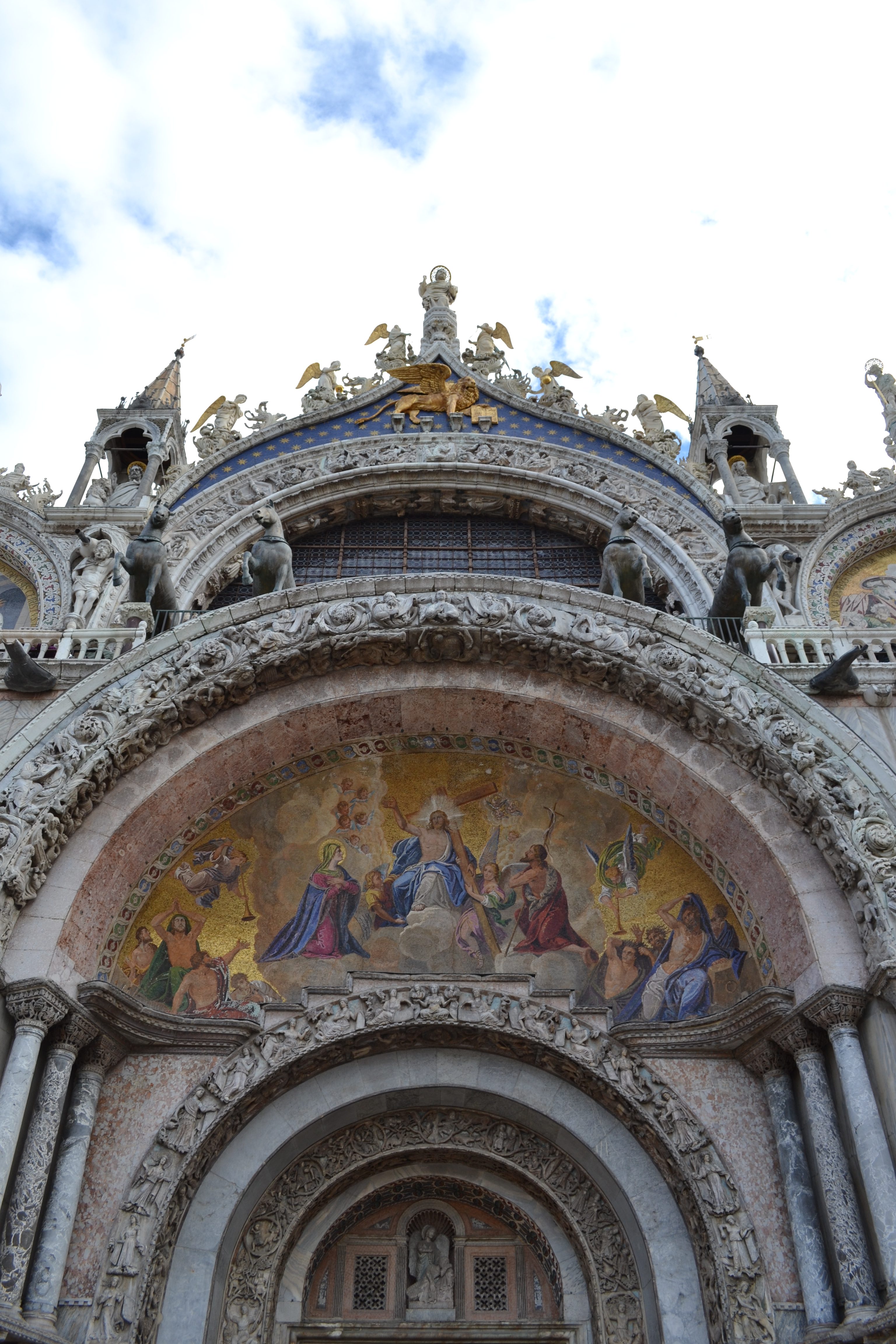 We found our way up a narrow staircase to the one thing I was definitely ready to pay money for: a glimpse of the bronze horses and a spot on the balcony overlooking San Marco square. The sun was rising up by the ferry port to the east behind the church, casting half the porch in bright sunlight and the other half in shade. It made the horses look majestic, like they were ready to leap into the open air. These horses featured prominently in a young-adult book called "the thief lord" I read while "researching" our trip (basically any documentary, tv show, or book that took place in Germany, Italy, or Greece – more on that later). The horses almost look like they don't belong – sort of because they don't. First of all the symbol of San Marco (St. Mark) adorned on the Venice flag is a pretty badass gryffindor-esque winged lion. So why put four ordinary horses in such a prominent spot when you could have put a cool mythical creature for your patron saint? Secondly, the horses are made of bronze which comes across as a dull brown and, while they're large enough up close, a dull brown blob amongst towering architecture, gilded mosaics, and bells and clock towers just doesn't stand out the way you want it to. Bet you didn't even notice the horses in the picture above. But all that is gold does not glitter…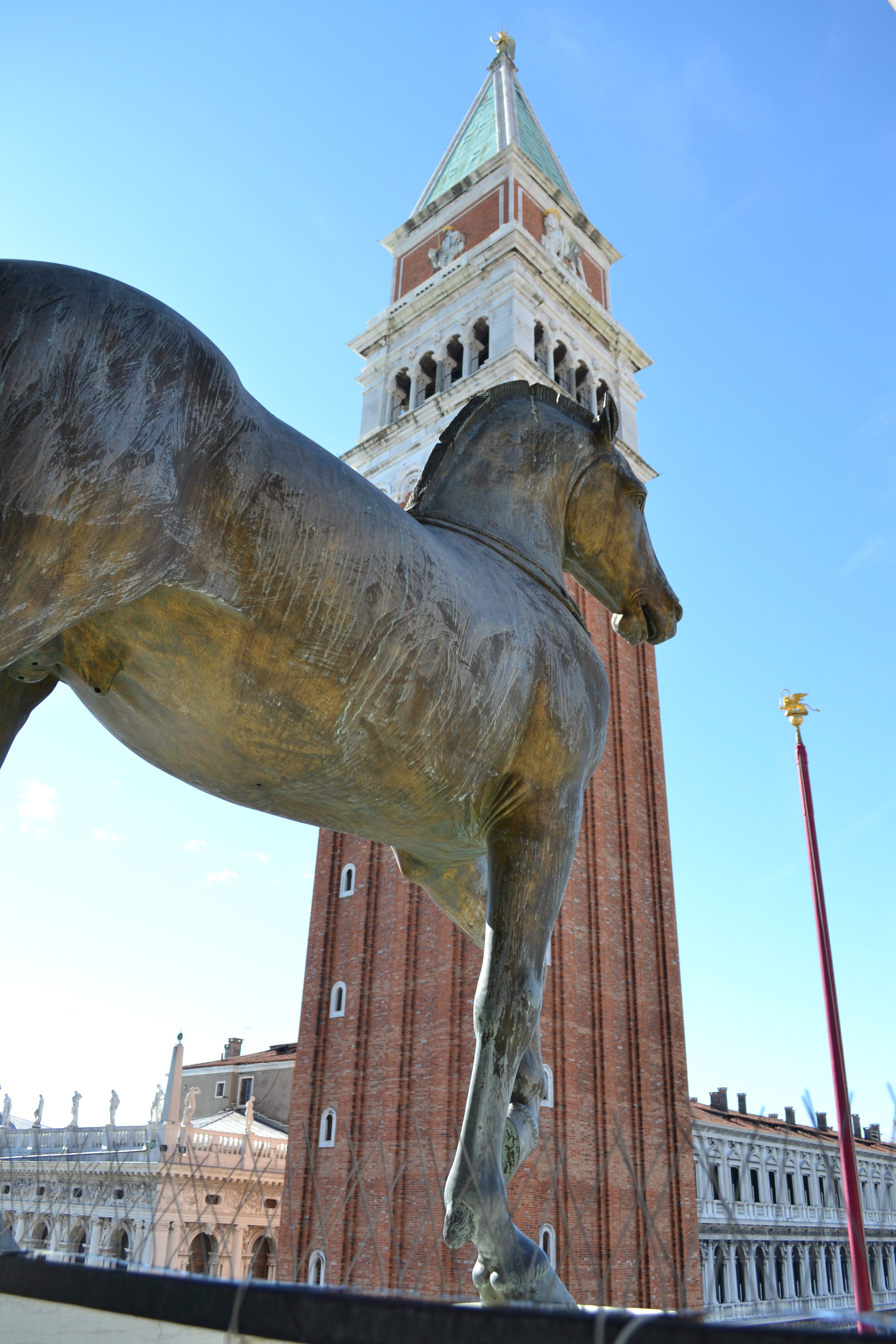 Bronze is actually an incredibly precious metal – especially during war time when you have a greater need for cannons and swords than statues. And over the past 2000 years, there have been a couple of wars. No one actually knows the full history of these horses but they are believed to have been cast in the 2nd or 3rd century AD, stolen from Constantinople during a crusade, and then stolen again and returned through various invasions of Venice (most notably Napoleon stole them on his way through in the 1800's). Horse-pulled chariots used to be a common enough statue, but these are the only set of complete horses still around (later, in Delphi, Greece, we saw one of the only bronze charioteers ever found.) For something so old, the detail is phenomenal – the artist gave the horses expressive faces, detailed muscles, and even scratch marks on the metal supposedly to diffuse light and make them less blinding in the sun – and all of this accomplished by hand made, one time use casts which could hold enough boiling metal for a 10ft tall horse. I experimented with casting at Virginia Tech's foundry lab for a summer – and let me tell you a 1ft rectangular box ended up being one of my most useless projects – awesome safety suit, legit molten metal, useless results in my hands.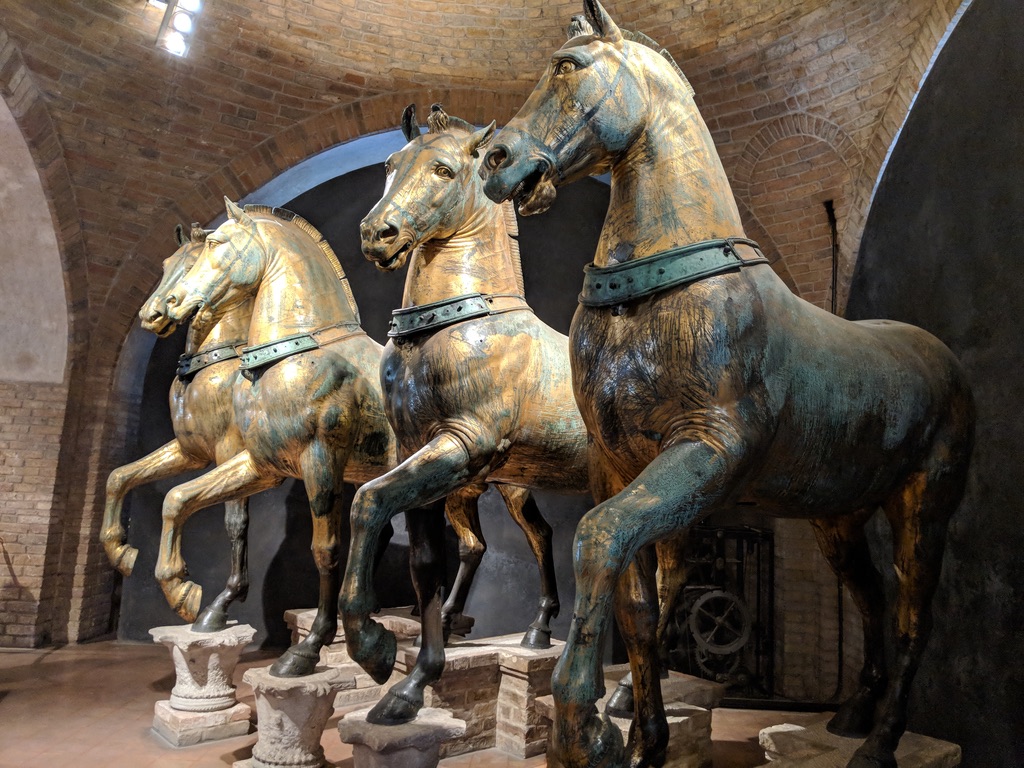 The balcony provided a perfect view of the clock tower across the way. It was this unexpected mediterranean, bright blue with gold decorations against a white building. The clock hands were the sun and moon, pointing to twelve white stone roman numerals encircling the zodiac symbols and stars which were gold against a dark blue backdrop. Above the clock was Mary holding Jesus; above that was the badass winged lion of St. Mark with a paw on a book; and above that was a giant bell and two figures posed to strike the bell. Mike thought the two figures were actually striking the bell, but from below I thought they were just statues caught in a moment of movement – I had to climb all the way up to the balcony, squint, and wait for the bell to chime to believe him – but Mike was right, they move!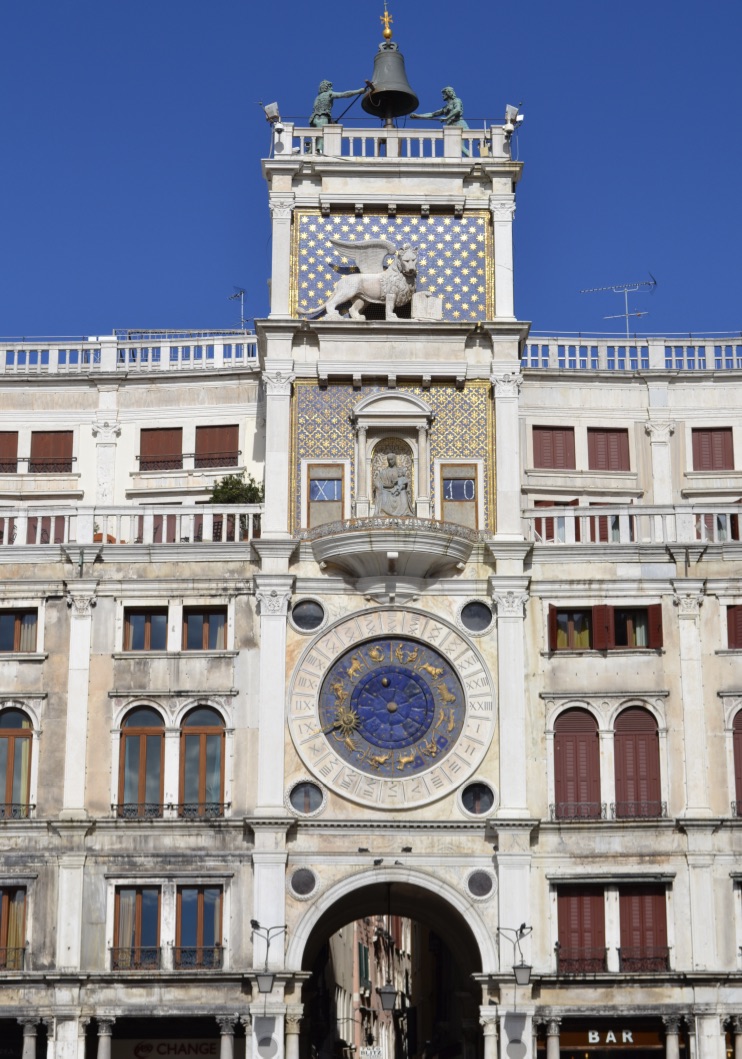 Exhausted and a little cranky, we went to find Alfredo's – a cheap, to-go pasta joint in one of Venice's many winding side-streets. Three years after visiting my friends still RAVE about this place but when we found it, the restaurant was no longer called Alfredo's, was advertising that it had franchised itself throughout Europe, and had average pasta in chinese take-out containers. Its saving grace was that it was cheap (a very important thing in overpriced Venice) and we were full and ready for a nap.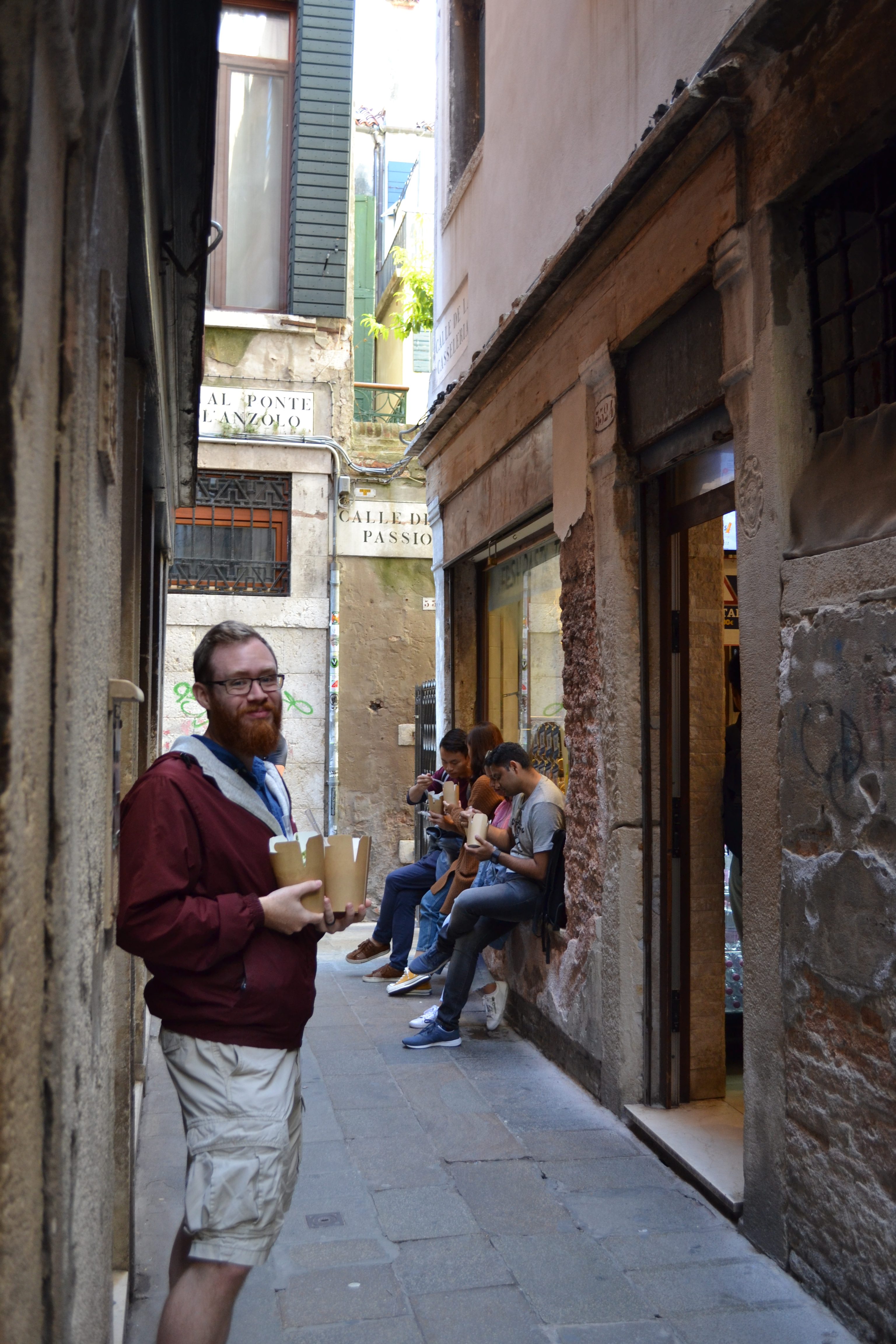 We marched back across Venice to our hostel and passed out for the afternoon.
Post nap-time, we were ready for our Gondola lesson.  Awhile ago, I made Mike listen to this podcast on the first "female" gondolier during a weekend road trip. From the outside it seemed like this great feminist-battles-the-establishment story but instead the podcast dove beyond the headlines and found this great twist of complexity with identity and sexuality.  (Listen to it here https://www.wnycstudios.org/story/gondo).
So on top of the sexist undertones, Mike and I were also a little disappointed at seeing congested canals of gondolas stuck in bow-to-stern traffic – all taking the exact same route, all waiting their turn. Some even had operatic singers backed by an accordion – it almost seemed more pleasant to stumble across a bridge and listen to the music on the waterways for a couple of minutes than to be stuck on a boat with it for an hour.
Mike and I instead opted for Gondola lessons (actually the boat is called a Voga and has its own rich history and practicality and boating people would probably be mad that I'm equating the two – but we're stand-rowing a boat in Venetian canals so I will call it gondola lessons). The company (Row Venice) is all women instructors who seem to row semi-professionally on the side. So instead of being rowed around silently and awkwardly by a man, we learned a new skill in the quieter, northern part of Venice from some badass women.
Growing up with my Dad's canoe, I thought I would have a slight advantage in at least knowing what I supposed to be doing with a paddle: the front of the boat is the powerhouse, the back steers with some fancy swishes of the oar. But of course I'm not the greatest powerhouse and standing up on the boat and feeling like you're gonna fall off while trying to steer with an oar twice your height with fancy swishes is like a whole new level of patting your head and rubbing your stomach: lots of focus, lots of brain-arm coordination mismatch. Mike of course was a brilliant powerhouse from the beginning. I like to think I finally did better at the end of the lesson by steering the boat straight through a canal and not hitting anything for 50 feet.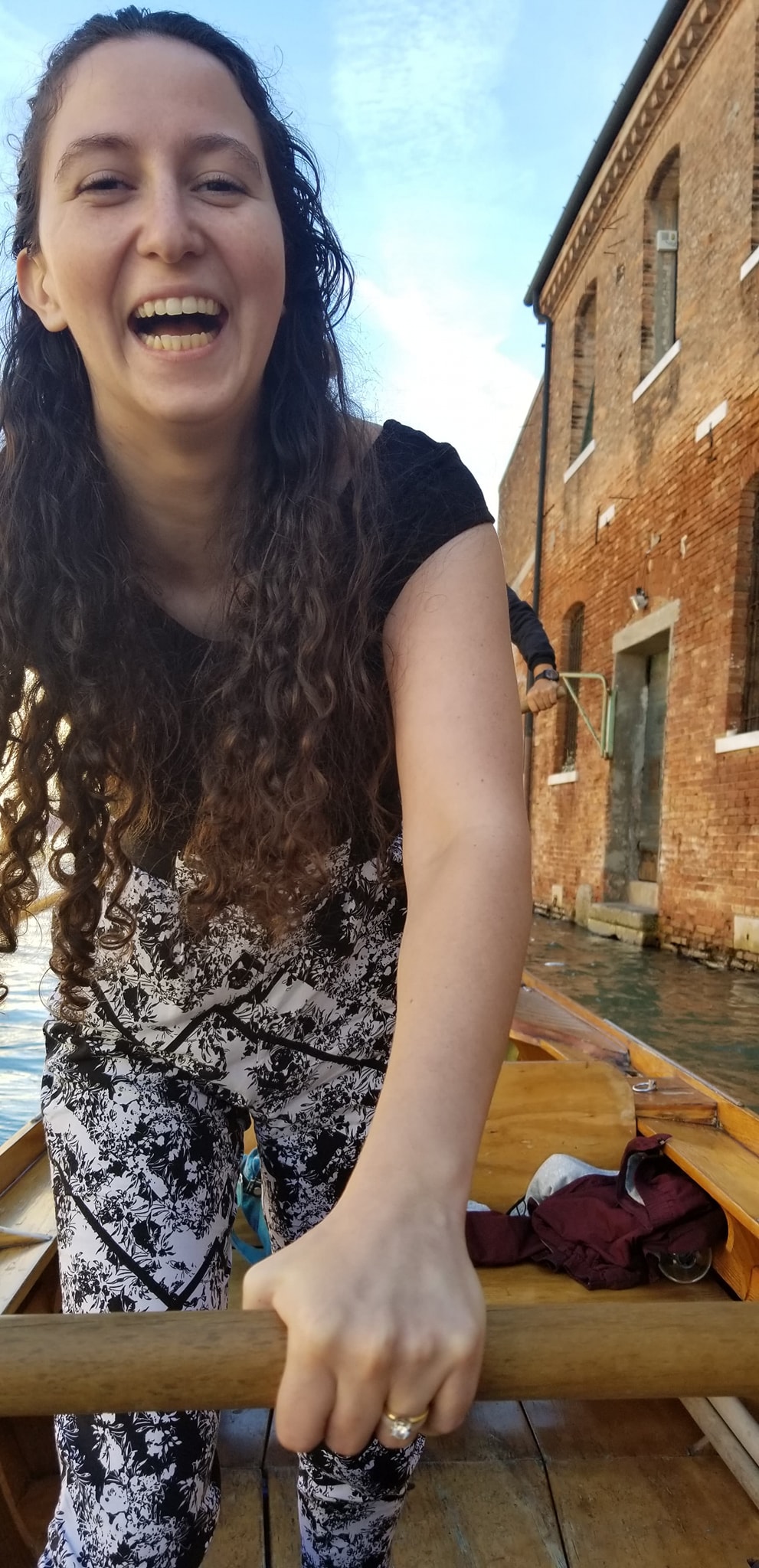 At one point we rowed past the original ghetto. As a trading city, Venice saw the value of different cultures. At the time, Spain was in the middle of kicking out all of its Jews and Venice – seeing value in an educated population known for the useful occupations of jewelers and bankers – invited them to the city. But this is still a different time and Venice's open door policy only allowed Jews to be quarantined in one small neighborhood; a neighborhood that was gated and locked at night (you can now see the gates in the Holocaust Museum in DC). Over the years, if a three block radius is your people's only sanctuary, then you can visualize small cramped rooms stacked as tightly and as close and as tall as you can imagine. Apparently there's an Italian word for that chaos and it sounds kinda like getto. As we rowed by, a handful of men in yamakas seemed bowed in deep conversation – I am sure there has been 800 years of tumultuous history since the ghetto was first created but it is kind of nice to see a Jewish community still here.
After the lesson, our final, circuitous and slow, walk back to the airbnb for the evening involved stopping for several glasses of wine, a mango desert, some bruschetta, and a bookstore. The bookstore was part touristy, part used books stacked floor-to-ceiling along the walls and in a gondola that takes up most of the floor space, and part new releases in a variety of languages and topics. I found a giant coffee table book on the history of map making. It is brilliant and totally worth making Mike carry it around the rest of the trip :p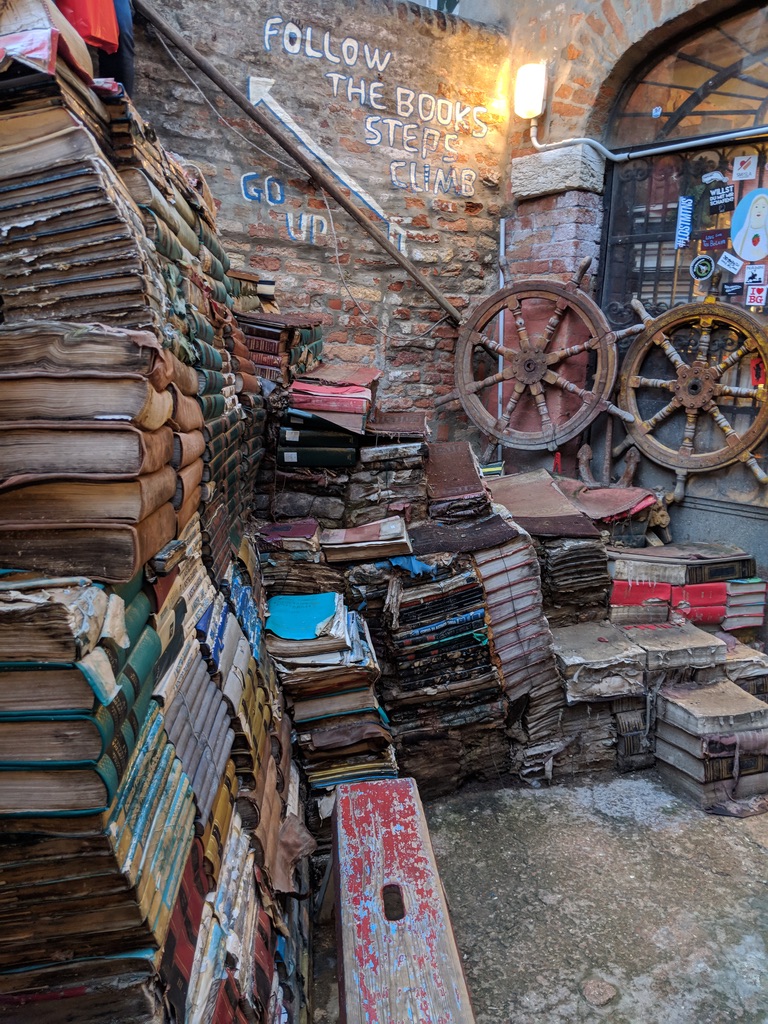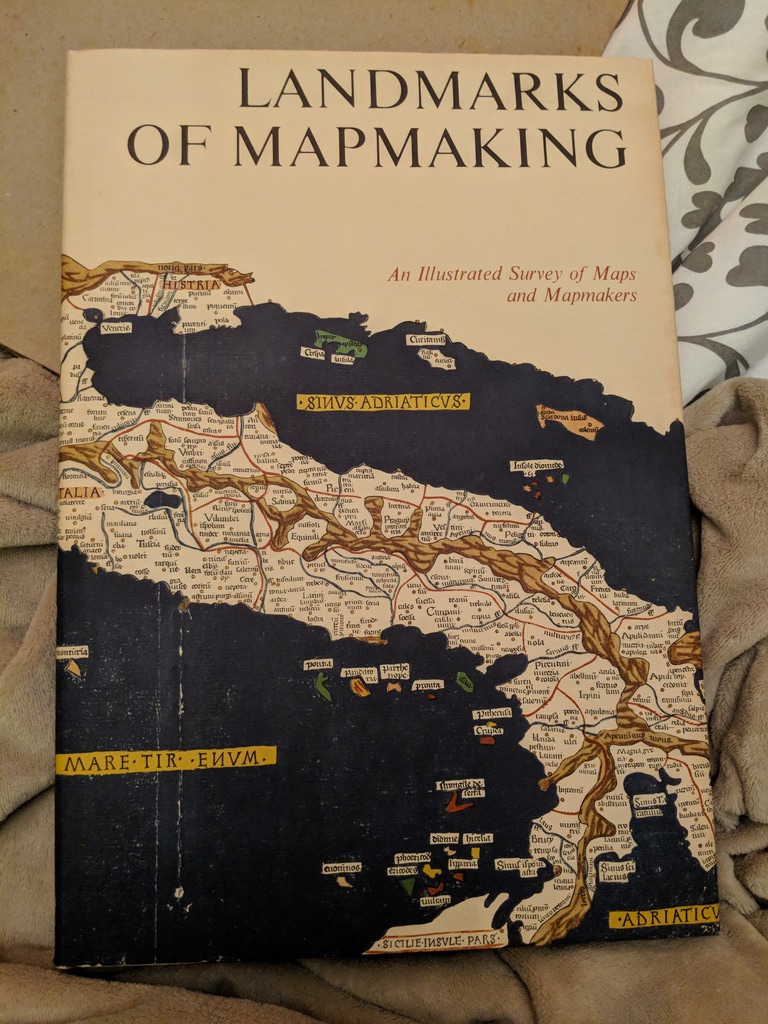 Overall, Venice was exhausting. This was partially our fault for cramming so much into one day. But the maze of canals and alleyways and bridges and streets was both romantic in a get-lost-and-explore sort of way but also tiring in a oh-my-god-why-are-we-always-lost-and-why-is-there-nowhere-to-sit way. It was beautiful and overwhelming. We learned some of the history but couldn't cram it all. We walked AROUND THE ENTIRE CITY but barely saw the grand canal in the middle (see map). Our only respite was running back into the comforts of our AirBnb or pausing at a cafe or stopping and appreciating some detail – but there are no parks, there are no benches, there are no trees – just endless alleyways of stone and water; it's the craziness and opulence of manhattan without the calm of central park.