Updates:
9/12/18
Plan B: Hurricane Party
6pm-11pm at the Stoneridge Events Center
7373 Comfort Inn Dr, Warrenton, VA 20187
There will be an open bar (with a hurricane as our featured drink), full buffet dinner, photographer, DJ, photobooth, and desert bar.
If you are disappointed you didn't get to wear a cute new outfit to our wedding, come in that. If you prefer shorts and flip flops, do that.
This is a casual hurricane party with wedding undertones. We have five cars loaded down with wedding supplies so we'll throw that around the room and see how it lands. We will also be bringing tons of lawn games and board games. And alcohol.
If you are not in the path of the hurricane, please do not drive toward it. If you could not cancel your flight, are local, or need a place to evacuate to anyway - contact Mike, me, or our parents and let us know if you can attend. Most important of all: stay safe everyone.
There is also a block of rooms at the hotel across the parking lot: please call and reference Robert Wood.
Baymont Inn and Suites
7379 Comfort Inn Dr, Warrenton, VA 20187
(540) 216-0720
9/10/18
All of Dare county and Cape Hatteras are under forced evacuation. All Outer Banks wedding activities are cancelled. Sorry everyone!
All of your accommodations *should* refund you as this is a forced evacuation. If you were flying into Norfolk, I expect that airport to close on Thursday or Friday - airport closure may help with refunds. Raleigh is also in the path of the storm and may close. Dulles airport is trickier.
Mike and I (Rachael) and our parents checked into a beautiful beach house in Nags Head yesterday right on the Ocean. We've been enjoying clear blue skies, pockets of rainbow-making showers, six foot waves, mimosas, and Catan - if only for a little bit. This afternoon Mike and Rachael stopped by the register of deeds in Manteo where a woman who worked at the office and helped us get our marriage license also happened to be an ordained minister. We drove a couple blocks away and were legally married on a pier beside the sound, the Manteo lighthouse in the background and both of our parents witnessing and photographing. Our new best friend-clerk-minister even sang "you are the wind beneath my wings." Let us hope that Mike and I generate Florence-level winds beneath each other's wings.
We are now currently packing up and preparing to evacuate. We will all go to Mike's parents house for the week in northern Virginia to ride out the storm. Mike and Rachael's house in Raleigh is projected to see 2' of rain and 70mph winds, while Rachael's Dad's house in Norfolk might be hit by the hurricane and flooding as well.
It is only Monday, so there is still a small hope for a plan B by the end of the week. We are currently looking at venues in the northern Virginia area for a Friday-night celebration. It might just be a good place to evacuate to :p . If anyone cannot reasonably cancel and is still flying into Virginia, let us know and we will try to welcome you and accommodate you the best we can! I'll send an email out if anything is confirmed!
9/8/18
So, yes, there's a hurricane named Florence headed our way. We are aware of it. There is no plan B. If it is a category two or less, we will ride it out (our venue is indoors in case of rain). If it is much worse than that, we'll cancel the whole thing, collect our wedding insurance money, have a great honeymoon, and try this again later.
We will continue to play it by ear. Feel free to do what you think is best for you and your family and travel plans.
Jennette's Pier in Nags Head on the Outer Banks of North Carolina
Jennette's Pier is part of the North Carolina Aquarium system. In addition to being a fishing pier, it also hosts educational outreach programs, a stranding team for beached wildlife, and is powered by wind turbines and solar panels.
We will be on the top level of the main building on the pier. The main indoor space opens up to a wrap-around porch looking straight out over the ocean.
Let us know if you can attend our special day!
What's better than a day of celebration? A whole week. We're going to take advantage of the Outer Banks off-season and the cooler temperatures of September to spend more time with the people we love: you, our guests!
Here's what we know so far:
We'll be at the beach the week before the wedding: Sunday, September 9 - Sunday, September 16th
OBX is set up to do week long Saturday to Saturday rentals. Sunday to Sunday rentals are a bit more scarce.
Some realtors will open up housing for shorter 3-4 day stays as early as 3-4 weeks beforehand. So, if you can't make the full week, you can try to find something in mid-August
Big Mama's is now full. Feel free to get a group together to find a beach house nearby! To help with your search, here are some other Sunday rentals we have found: Dune Ridge North, Fun Times, and Shorenuff
Can't make it for an entire week?
Of course we understand most people have kids in school, are teachers, or simply can't afford to take an entire week off of work just for a wedding. We get it. We're not that self-centered. There are plenty of hotel options nearby.
***We have a block of rooms!***
We have a block of rooms available at Best Western Ocean Reef Suites. These will be available up to 30 days before check-in.
Address: 107 S Virginia Dare Trail, Kill Devil Hills, NC 27948
Phone: (252) 441-1611
Please reference Wood/Born wedding when you call
Dates: check-in on Friday, September 14th check-out on Sunday, September 16th
Shorter and longer stays may also be available - just ask them to extend the rate. 
Details:
Right now we have 24 rooms reserved, but we can get more.
12 rooms have (1) king bed, 12 rooms have 2 beds
12 rooms are ocean view at $143.99/night (does not include tax)
12 rooms are pool view at $140.79/night (does not include tax)
Keep in mind, these rates are the lowest they will go; sorry if you had a AAA discount you wanted to use. 
All Rooms include breakfast and parking
The hotel is about 8 miles (15 minutes) from the wedding at Jennette's Pier. Best Western Ocean Reef Suites is located in Kill Devil Hills, a town between Kitty Hawk (think Wright Brothers) and Nags Head (where the wedding will be). These three towns are probably the most "urban" of the outer banks with plenty of restaurants, bars, shopping, oceanfront, and activities.
*Other hotels*
The outer banks is not your average built up, oceanfront resort town. Which is good and bad. There aren't many tall, big, *fancy*, chain hotel options. There are a ton of small, locally owned motels and houses - we can't get blocks of 20 rooms at these because the entire motel is 20 rooms. Best Western is in a great location, they have a lot of room options, and they gave us a great group rate - call them first. But then feel free to look around.
Millenials: AirBnb should have a bunch of options - feel free to look for a good deal. VRBO may have options too.
Non-millenials: 
Colonial Inn 
2 star motel, ~$135/night (online search, prices may vary) on the oceanfront within walking distance of Big Mama's (the beach house the bride/groom will be staying at)
Tranquil House Inn
3 star inn, ~$170/night in the heart of Manteo (cute, quiet town on an island in the middle of the sound between the main land and oceanfront). We love Manteo - there's a rum distillery, coffee shop, historical stuff, aquarium, Elizabethan gardens, and the famous Lost Colony play down the road.
Comfort Inn South Oceanfront
2 star hotel, ~$140/night (online search, prices may vary) literally steps away from Jennette's Pier (wedding venue)
The Cavalier Motel
This one is a shout-out from Rachael's Uncle Michael who has been staying here for decades. It's got great reviews, is family run, and is within walking distance to the block of rooms at the Best Western.
P.s. - It's off season in the outer banks. If you want to book now, go for it. If you're a procrastinator that doesn't know what their life will look like in September (and not too picky), you can probably wait till the last minute and score some deals. In July/August its impossible to find accommodation. In September, you're probably fine.
Date: September 15, 2018
Who
Michael Robert Wood will be marrying Rachael Grace Born for some reason.
Schedule
Friday, September 14th 7pm-9pm
Rachael and Mike will be hanging out at the Outer Banks Brewing Station if you're in town early and want to come by and say hi!
Saturday, September 15th
3:45pm: The time you should plan on getting to the venue :p
4pm: Rachael and Mike get married on the pier!
4:15pm: Start drinking, and join us for a ton of group pictures
5:15pm: Join us for dinner upstairs at the reception.
9pm: If you're still around at last call, you get to help us clean 🙂
What to wear:
Well, first, here's the forecast:

So wear a) something you will be comfortable in at 85 and humid and b) something worthy of our expensive photographer and any photo albums passed down to future generations ;P
For accessibility we have moved from the sand onto the pier itself. Unfortunately, this probably means you need shoes. Heels are also not advised. Be comfortable and be prepared to dance!
Other stuff
Address: Jennette's Pier at 7223 S Virginia Dare Trail, Nags Head, NC 27959
Parking: There's plenty and it's right in front! Also: if you plan on drinking, make a plan on how to get home safe <3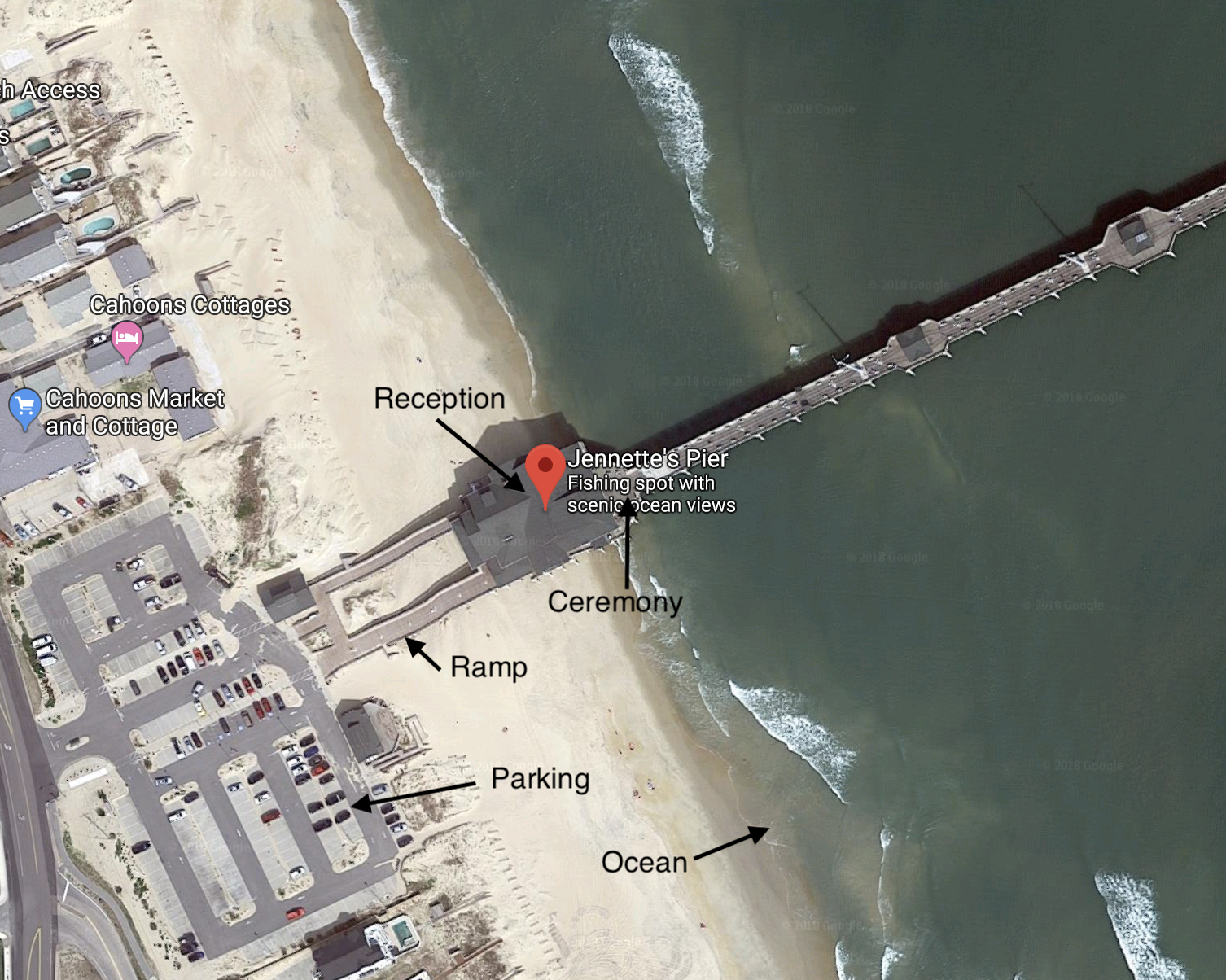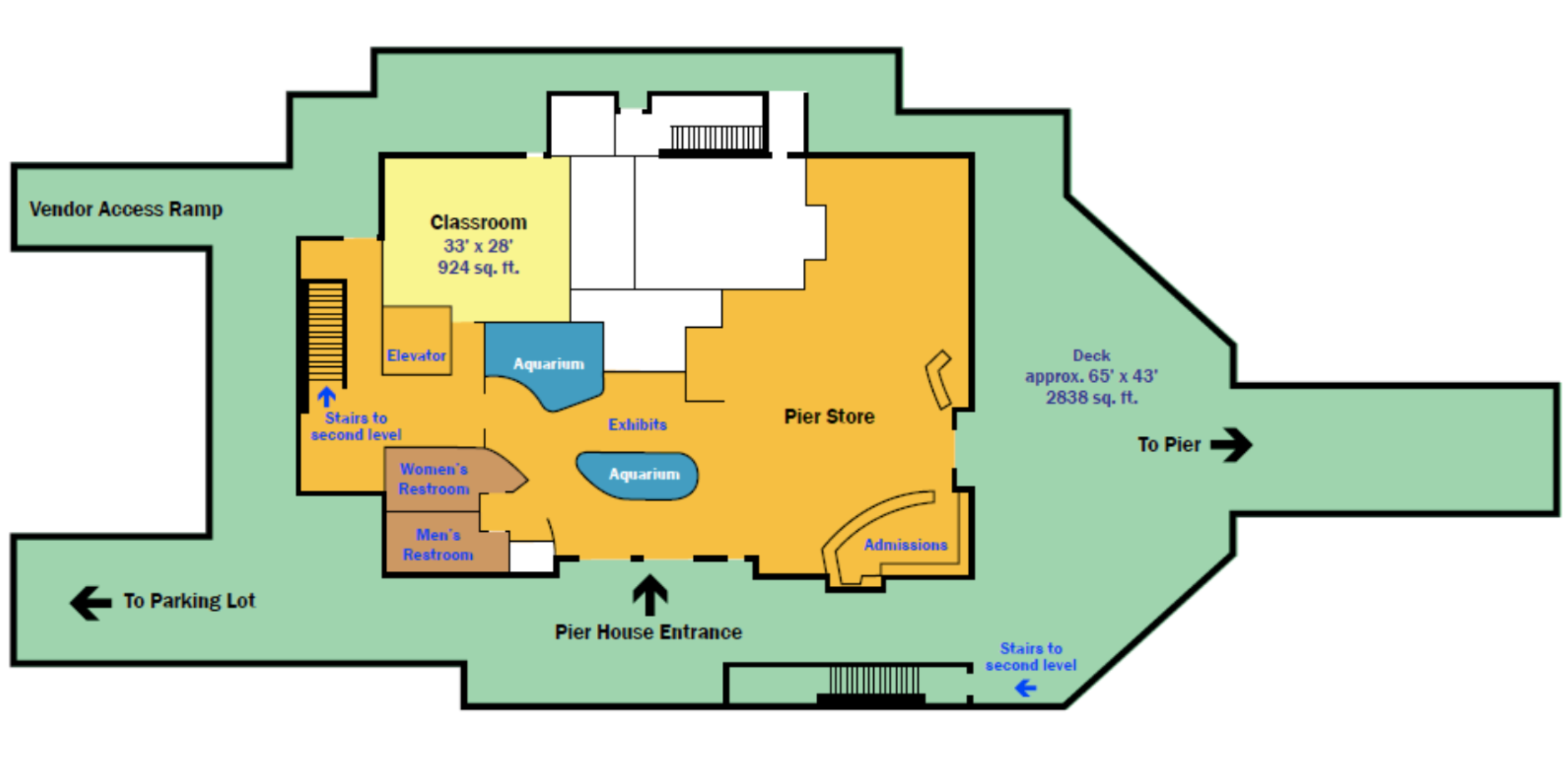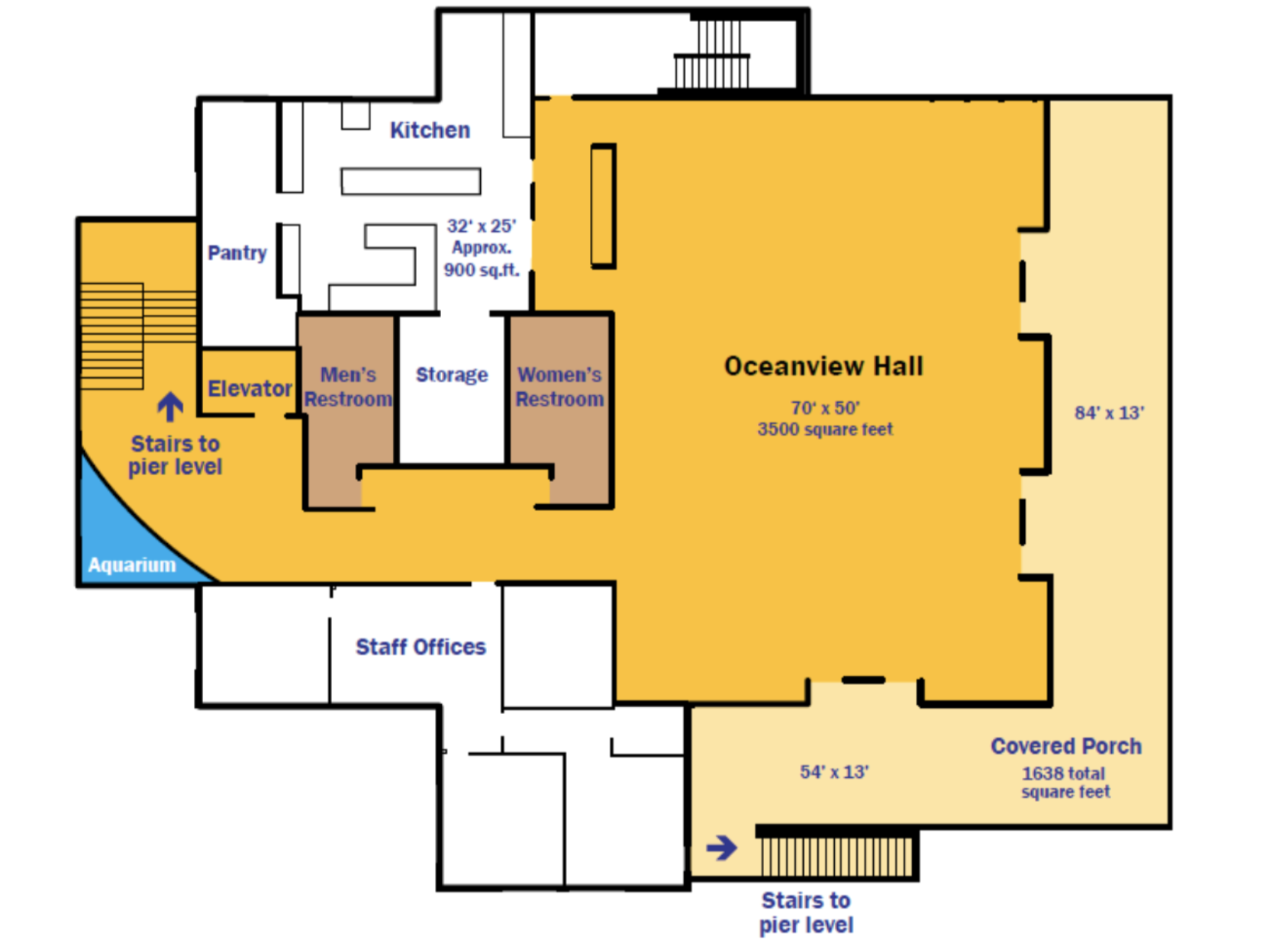 Getting there
The closest airport is in Norfolk, VA. Nags Head is an hour and a half south by car from there. However, the cheapest airport might be into Raleigh, a three hour drive away.
We want your presence, not your presents.
But seriously: we have been living together for awhile and even bought a house together which we have already filled with a lot of stuff.
If you're creative, make us something from the heart. If you have an heirloom that means something (looking at you fam) gift us that with the object's story.
If you choose to honor us with a gift, a contribution towards our next adventure will help us create memories that will last a lifetime. If you know Rachael at all, you know this trip is gonna be epic. (Read about our last trip hiking the Inka Trail to Machu Picchu here.)
HoneyFund is now live and the link is below! As a thank-you, we will send selfies of the sponsored activity to you!
We also welcome donations to any charity in our honor. Specifically, we have added the North Carolina Aquarium Society (help us get a fish plaque at our venue!) and Lighthouse Relief (assisting refugees in Greece) to our HoneyFund.
PSA if this somehow impacts your creative or otherwise gift: Rachael will not be legally changing her last name. However, please feel free to call us the "Woods". We see a lot of "W" and tree themed objects in our future.
Wanna help make our wedding playlist awesome?  We both have terrible taste in music and need your help. (Otherwise the reception will be three hours of Rachael's favorite Disney songs, some Linkin Park, and the entire Hamilton musical.)
All genres are welcome: from old school motown to throwback backstreet boys to your vote for the best song this summer. It can be jazzy or slow dance-y or booty shaking. It could even the first song you danced to at your own wedding. Go crazy.
Directions (because Spotify made this complicated):
1.  Click on the link here to go to the playlist
2.  Log in to your spotify account (it is free if you don't have one!)
3.  Click "follow"
4.  Open the spotify app (this annoyingly does not work in the web browser)
5.  Search for the song you want, click on the ellipses at the end (three dots), find "add to playlist", and select our "Awesome Mix [Mike&Rachael Wedding]"